Appears in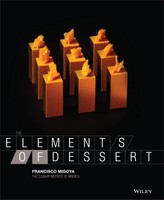 Ingredients
Brioche Pullman loaf slice, 1.25 cm/.5 in thick by 30 cm/12 in long, crust trimmed 1 1
Heavy cream 200 g 7.05 oz 44.15%
Vodka 50 g 1.76 oz 11.04%
Ground cinnamon 1 g .04 oz .22%
Vanilla paste 2 g .07 oz .44%
White chocolate coins 200 g 7.05 oz 44.15%
Method
Place the slice of brioche on a half hotel pan lined with plastic wrap.
Combine the heavy cream, vodka, cinnamon, and vanilla paste in a small saucepot. Bring to a boil and then pour over the white chocolate. Stir until the chocolate has dissolved.
Pour on top of the brioche slice while warm.
Wrap the brioche with the plastic wrap it is laying on and refrigerate.
Once the ganache has crystallized, cut it out into disks that are smaller than the diameter of the mold.