Appears in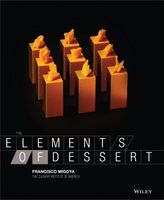 Ingredients
Cake doughnuts 50 g 1.76 oz 7.87%
Heavy cream
Method
Purée the doughnuts with the heavy cream and sugar until completely smooth.
Bring the doughnut purée and glucose syrup to a boil in a sauce pot. Pour over the white chocolate.
Stir to emulsify, then incorporate the butter, and stream in the chocolate liqueur.
Allow to cool, covered in plastic. Pipe into the mold once it reaches 30°C/86°F.