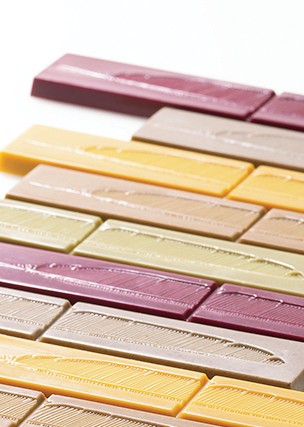 Appears in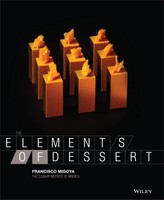 Ingredients
Sugar 232 g 8.18 oz 38.67%
Cocoa butter coins 245 g 8.64 oz 40.83%
Beet powder 120 g 4.23 oz 20%
Lecithin powder 3 g .11 oz .5%
Method
Grind the sugar in a coffee grinder.
Melt the cocoa butter to 45°C/110°F and place it inside the mélangeur (see Resources); turn it on.
As soon as the mélangeur starts moving, start adding the sugar in 4 additions, and then add the beet powder in 4 additions.
Let the mélangeur run for at least 12 and up to 18 hours.
Add the lecithin powder toward the end of the process and let it grind for about 2 more hours.
Transfer the couverture to a sheet pan lined with parchment paper and let it cool to set.
Temper the couverture with regular white chocolate and proceed with the Molded Chocolate method. Do not turn the molds over once they have been filled with the couverture. The bars are solid chocolate; therefore, fill the mold and then scrape off the excess.
Allow to crystallize at room temperature before unmolding.