Appears in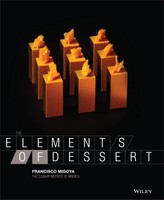 Ingredients
Marigold Syrup
Crystallized marigolds 600 g 1 lb 5.12 oz 49.88%
Water 600 g 1 lb 5.12 oz 49.88%
Malic acid 3 g .11 oz .25%
Marigold Caramel
Marigold Syrup 1.05 kg 2 lb 4.96 oz 78.95%
Butter 105 g 3.7 oz 7.89%
Heavy cream 105 g 3.7 oz 7.89%
Invert sugar 70 g 2.47 oz 5.26%
Method
For the marigold syrup: Purée all of the ingredients together using a handheld immersion blender.
Reserve in an airtight container and refrigerate overnight.
Pass through a fine-mesh sieve before making the marigold caramel.
For the marigold caramel: Combine all of the ingredients in a 960-ml/1-qt saucepot. Bring to a boil, and then quickly reduce to a simmer.
Cook until the mixture reaches 112°C/234°F. Take off the heat and emulsify using a handheld immersion blender for 2 minutes, or until emulsified. Make sure to keep the head of the blender submerged in the caramel to prevent bubbles from forming.
Pour into the baked tart shells to fill until the caramel domes slightly over the top of the mold but not so much that it pours out of the tart shell. You will have some caramel left over, which may be used for more tarts made at a different time. The caramel has a shelf life of 2 months.
,