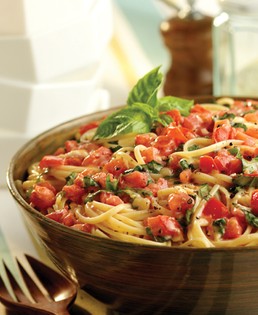 Ingredients
4 large ripe tomatoes, cut into ½-inch cubes
1 pound Brie, rind removed, torn into irregular pieces
1 cup fresh basil leaves, rinsed, patted dry, and cut into strips
3 garlic cloves, peeled and finely minced
1 cup plus 1 tablespoon best-quality olive oil
½ teaspoon salt, plus additional to taste
½ teaspoon Freshly ground black pepper
1½ pounds linguine
Freshly grated Parmigiano-Reggiano cheese, for garnish (optional)
Method
At least 2 hours before serving, combine the tomatoes, Brie, basil, garlic, the 1 cup olive oil, and ½ teaspoon each salt and pepper in a large serving bowl.
Bring 6 quarts salted water to a boil in a large pot. Add 1 tablespoon olive oil and the linguine, and boil until tender but still firm, 8 to 10 minutes.
Drain the pasta and immediately toss with the tomato sauce. Serve at once, passing the peppermill, and the grated Parmigiano-Reggiano cheese, if you like.