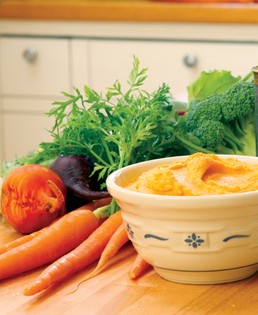 Ingredients
4 large sweet potatoes (about 2 pounds), of a moist variety
1 pound carrots
2½ cups water
1 tablespoon sugar
12 tablespoons (1½ sticks) unsalted butter, at room temperature
Salt and freshly ground black pepper, to taste
½ cup Crème Fraîche
½ teaspoon freshly grated nutmeg
Dash of cayenne pepper (optional)
Method
Preheat the oven to 375°F.
Scrub the potatoes and cut a small, deep slit in the top of each. Set on the center rack of the oven and bake until the potatoes are tender when pierced with a fork, about 1 hour.
Meanwhile, peel and trim the carrots and cut them into 1-inch lengths. Put them in a saucepan and add the water, sugar, 2 tablespoons of the butter, and salt and pepper. Set over medium heat, bring to a boil, and cook, uncovered, until the water has evaporated and the carrots begin to sizzle in the butter, about 30 minutes. The carrots should be tender. If not, add a little additional water and cook until the carrots are done and all the liquid has evaporated.
Scrape out the flesh of the sweet potatoes and combine with the carrots in a food processor. Add the remaining butter and the crème fraîche and process until very smooth.
Add the nutmeg, and season with salt and pepper. Add the cayenne, if desired, and process briefly to blend.
To reheat, transfer to an ovenproof serving dish and cover with aluminum foil. Heat in a preheated 350°F oven until steaming hot, about 25 minutes.