Appears in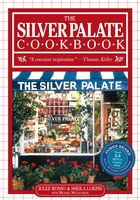 Ingredients
1 cup semisweet chocolate pieces
2 tablespoons unsalted butter, melted
3
Method
Melt the chocolate in a bowl placed over simmering water; this will take about 20 minutes. When the chocolate has reached 110°F, add the melted butter and Kirsch. Whisk quickly and thoroughly until smooth.
Add the confectioners' sugar and water, continuing to whisk until smooth.
Remove from the heat and keep warm.