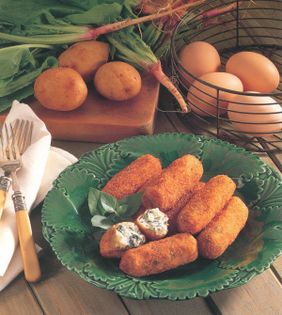 Appears in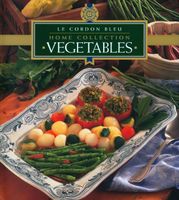 Ingredients
500 g (1 lb) floury potatoes
pinch of ground nutmeg
20 g (¾ oz) unsalted butter
1 egg yolk
oil, for deep- or shallow-frying
40 g (1¼ oz) Parmesan, freshly grated
50 g (1¾ oz) cooked English spinach, finely chopped 60 g (2 oz) plain flour, seasoned with salt and pepper 3 eggs, beaten
1 tablespoon peanut (groundnut) oil
150 g (5 oz) dry breadcrumbs
Method
Cut the potatoes into similar-sized pieces for even cooking, by halving or quartering, depending on their size. Put in a saucepan, cover with cold water and add a large pinch of salt. Bring to the boil, lower the heat and cook for at least 20 minutes, or until quite tender.
Drain the potatoes and dry them by shaking them in the pan over low heat for 2 minutes. Press them through a sieve or finely mash them until smooth. Season with salt and pepper, to taste, and nutmeg. Add the butter and egg yolk. Spread out on a tray to cool. Preheat oil in a deep-fryer or large pan, to moderate 180°C (350°F). The oil will be hot enough when a cube of bread browns in 15 seconds.
Mix the Parmesan with the very well-drained spinach in a bowl. Add the potato, salt and pepper to this mixture and stir to combine. On a floured surface, and using floured hands, roll the mixture beneath a flat hand to form cylinders about 6 x 2 cm (2½ x ¾ inches). Even up and flatten the ends.
Place the seasoned flour on a tray. Combine the eggs and oil in a bowl and put the breadcrumbs on a large piece of greaseproof paper. Roll the croquettes carefully through the flour and pat off the excess. Dip them in the egg to coat thoroughly, drain off the excess and roll in the breadcrumbs, lifting the edges of the paper to make it easier. Sometimes it is necessary to coat the croquettes twice in the egg and crumbs. Do this if your mixture is a little too soft to hold its shape well. Fry in batches until evenly browned and lift out, shaking off any excess oil. Drain on crumpled paper towels.