Appears in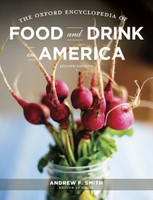 Atlanta, founded in 1825, is a city of contrasts and incongruities. Reflecting the city's identity as a symbol of the New South and a Global Getaway, Atlanta offers outstanding southern and international cuisine. Fast food also forms a major part of its culinary identity, considering the number of outlets and the amount of sales that they generate in the city. From its inception, local business leaders and politicians have promoted Atlanta as an ideal site for conventions, tourism, and travel. In less than 200 years, the town has developed rapidly from a frontier railway outpost to a world alpha city. A combination of factors, including transportation, geographical location, demographics, commerce, and hospitality, have contributed to Atlanta's inimitable culinary culture and history. Blessed with more than 10 million acres of surrounding farmland within Georgia, the capital city echoes the state's natural bounty in the eating establishments that range from down-home diners and cafes, to exceptional fine dining, modern farm-to-table restaurants, and finally to the new trend of neighborhood food trucks.
Georgia boasts a humid subtropical climate that accounts for tremendous agricultural output. The state leads the nation in the harvesting of peaches, peanuts, and pecans, and it is home to the sweet Vidalia onion. Cattle are raised in every county of the state, and Georgia sits atop the nation's list for broiler chicken and egg production. Melons, berries, and peaches are enjoyed year around, either fresh or in jams, jellies, preserves, and pies. The abundance of local fruit, vegetables, nuts, and animal source foods form the basis for Atlanta cuisine, at home or eating out. Some of Atlanta's signature dishes are shared with Georgia and the American South in general: fried chicken, barbeque, biscuits, grits, cornbread, greens, and fried okra, once washed down with buttermilk, now with sweet iced tea or Coca-Cola. Atlanta has creatively built on its traditions of hospitality and southern cooking. As the city moves into the twenty-first century, the leading indigenous culinary trends are sustainability, locally sourced products, and more nutritious offerings for children.
Atlanta, as a regional center of commerce and transport with a "New South" philosophy of prosperity based upon education and a diversified economy, has developed a cuisine to accommodate the divergent influences. Culturally, Atlanta benefits from the combination of several influences: urban and rural contributions; English, Scottish, Irish, and African American traditions; and southern yet international flavors. Added to that is a valuable mix of business, military, and government operations. Metro Atlanta, with a population exceeding 5 million, comprises more than half of the entire population of Georgia. The city's roots are distinctly southern and since 1970, African Americans make up greater than 50 percent of the city's inhabitants. Beginning in the 1980s, Atlanta became a destination for international immigration and now more than 13 percent of its population is foreign born. International Village, also known as Buford Highway, offers multicultural retail shopping and restaurants for Korean, Chinese, Mexican, Vietnamese, and Central and South American expat communities, among others.
Originally called the Gate City in the early nineteenth century, Atlanta drove itself to international prominence through wholehearted civic determination, commonly referred to as the "Atlanta Spirit." General Sherman razed Atlanta during the Civil War due to its strategic prominence. Nevertheless, only four short years later in 1868, Atlanta became the state capital. Thereafter, on the strength of its rail, motor, and air connections, it became the leading city of the South. By the 1980s it had become a prominent national city. On the threshold of the twenty-first century, Atlanta gained the status of a global city based on being a pivotal node in the global economy, symbolically marked by hosting the 1996 Olympics.
Atlanta's dining scene advanced with its reputation for growth, progress, and business. Boarding houses, saloons, and hotel dining rooms of the nineteenth century evolved into the private clubs, tearooms, cafeterias, lunchrooms, and sandwich shops during the first half of the twentieth century. Many of those establishments featured a "meat and three sides," still a common characteristic of contemporary southern restaurants. Atlanta restaurants played a vital role in US gender and civil rights. With one of the country's highest percentages of working women since 1930, the city's iconic eateries such as Frances Virginia Tea Room (1928) and Mary Mac's Tea Room (1945) aided women in access to public dining, entrepreneurship, and sociability in the community. Blacks regularly worked as cooks in the city after emancipation and have remained the heart of southern cooking and experts of barbeque mastery to this day. Segregation led to the development of Sweet Auburn Avenue, a center for African American businesses, including restaurants and entertainment. Later, civil rights activists chose eateries such as Thelma's, Paschal's, Aleck's Barbecue Heaven, and Deacon Burton's Grill as meeting places for dialog and calls to action. The Magnolia Tea Room and Rich's initiated some of Atlanta's first integrated dining rooms. Recognizing the significant influence of restaurants on its culture, Georgia State University and the Georgia Restaurant Association created a project to collect historical material and ephemera of the state's restaurants.
As the ninth largest metropolitan area in the United States in 2011, Atlanta ranks third behind Chicago and New York City for convention business. Business spending obviously improves the area's options for entertainment and dining. The city has the third largest concentration of Fortune 500 companies as well as representation for 75 percent of Fortune 1000 companies. Some of the best-known enterprises are Coca-Cola, Delta Airlines, UPS, CNN, Home Depot, Georgia-Pacific, The Weather Center, and the Centers for Disease Control and Prevention. Beyond Coca-Cola and its ubiquitous association with modern-day restaurants, Atlanta also hosts headquarters of several other culinary operations: Waffle House, Chick-fil-A, Applebee's, and The Big Green Egg. The Varsity, self-proclaimed world's largest drive-in, serves loads of hot dogs, onion rings, chili, and fried pies in the Georgia Technological Institute area. In the first decade of the twenty-first century, Atlantans spent 57 percent of their total food and drink expenditures on dining out, the greatest percentage for a U.S. city and 28 percent higher than the U.S. average. Restaurants also comprise the second largest private sector employer in Georgia.
Even before Atlanta became a town, a commentator remarked: "The Inhabitants are very Courteous to Traveller." Atlanta notable culinary luminaries maintain its hospitable reputation with Alton Brown, Pano Karatassos, G. Garvin, Kevin Rathbun, Shirley Corriher, Richard Blais, Kevin Gillespie, and Jason Hill, to name a few. Some popular and defining restaurants in Atlanta through the decades include the following: in the 1970s, Pleasant Peasant, Coach & Six, and Pano's and Paul's; in the 1980s, Buckhead Diner, Dailey's, and Atlanta Fish Market; and in the 1990s, The Dining Room at the Ritz Carlton Buckhead, Chops, and South City Kitchen. Present-day sophisticated establishments such as Bacchanalia, Canoe, Bocado, Empire State South, Two Urban Licks, and Restaurant Eugene present a variety of nouveau southern and New American fare, with an ever-growing farm-to-table movement. Atlanta continues to cultivate its fast food, southern, and global cuisine offerings as a leading business and tourist destination.
Bibliography

Allen, Frederick. Atlanta Rising: The Invention of an International City 1946–1996. Atlanta: Longstreet Press, 1996.
Coleman, Mildred H. The South's Legendary Frances Virginia Tea Room Cookbook. 25th Anniversary Edition. Nashville, Tenn.: Favorite Recipes Press, 2006.
Ferrell, John. Mary Mac's Tea Room: 65 Years of Recipes from Atlanta's Favorite Dining Room. Riverside, N.J.: Andrews McMeel, 2010.
Harricharan, Malika. Food Lovers' Guide to Atlanta: The Best Restaurants, Markets & Local Culinary Offerings. Guilford, Conn.: Globe Pequot, 2011.
Harris, Jessica B. High on the Hog: A Culinary Journey from Africa to America. London: Bloomsbury, 2011.
Libby, Melissa. Atlanta Cooks at Home. Miramar Beach, Fla.: CityBooks Publishing, 2006.
McDaniel, Rick. An Irresistible History of Southern Food: Four Centuries of Black-Eyed Peas, Collard Greens and Whole Hog Barbecue. Charleston, S.C.: The History Press, 2011.
Newman, Harvey K. Southern Hospitality: Tourism and the Growth of Atlanta. Tuscaloosa: The University of Alabama Press, 1999.
Opie, Frederick D. Hog and Hominy: Soul Food from Africa to America. New York: Columbia University Press, 2010.
Ottley, James M. Atlanta History for Cocktail Parties. Durham, N.C.: James Ottley, 2009.
Reese, Krista. Atlanta Kitchens: Recipes from Atlanta's Best Restaurants. Layton, Utah: Gibbs Smith, 2010.
Sjoquist, David L., ed. The Atlanta Paradox. New York: Russell Sage Foundation, 2000.
© Oxford University Press, 2013