Appears in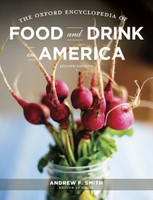 Hot cross buns are sweet, yeast-leavened buns made with spices like cinnamon, dried currants, and candied citrus fruit zest and are usually eaten toasted with butter. A cross marks the top of the bun, which is made using knife slits, icing, or additional dough. While traditionally eaten on Good Friday (celebrated the Friday preceding Easter to commemorate Jesus's crucifixion), hot cross buns are consumed throughout the year in the United Kingdom.
In traditionally Christian countries, the cross on top of the bun is believed to symbolize the Crucifixion; however, some historians believe the buns pre-date Christianity. Pagans baked breads incised with a cross to symbolize the four quarters of the moon to honor Eostre/Eastre, their goddess of spring and fertility (a conjectured origin of Easter). Later, as Christianity and the accessibility of sugar and spices spread during the 1600s (after the English Civil War), small loaves of bread were marked with a cross by monks and consumed on Good Friday.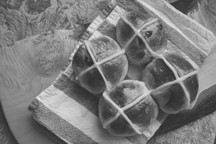 Hot cross buns were first referenced in writing in 1733 as part of Poor Robin, the English satirical almanac series, which noted: "Good Friday comes this month, the old woman runs with one or two a penny hot cross buns." Many attribute the later variations of the popular aptly named nursery rhyme to this initial mention.
A number of English superstitions and legends are associated with hot cross buns. One popular belief entails hanging a bun in the kitchen to improve the cook's baking while simultaneously ensuring against fires. Another encourages burying a bun in a pile of corn to keep rats and evil spirits that cause mold at bay. Some say it is important to kiss the bun prior to eating to show respect to the inscribed cross.
Variations on the traditional recipe include the addition of chocolate or fruits, such as oranges or cranberries.
Bibliography

Doane, William C. The Book of Easter. New York: Macmillian, 1910.
"Festivals of the Year: April." The New England Kitchen Magazine, April/May 1895.
Hardwick, Charles. "Easter Superstitions and Ceremonies." In Traditions, Superstitions, and Folk-Lore, pp. 70–82. New York: Arno Press, 1980.
"History of Hot Cross Buns." Historical Foods. http://historicalfoods.com/the-history-of-the-hot-cross-bun.
Mahew, Henry. "Section 24." In London Labour and the London Poor, pp. 202–212. London: Griffith, Bohn, & Co., 1861.
© Oxford University Press, 2013