7UP is a soft drink created by Charles Leiper Grigg of St. Louis, Missouri. Grigg created his first soft drink, called "Whistle," in 1919. Following a dispute with his employers, Grigg quit his job, leaving Whistle behind, and obtained a new position developing soft-drink flavoring agents for the Warner Jenkinson Company. There he developed his second orange-flavored drink, called "Howdy." Deciding to seek his fortune, Grigg formed a partnership with the financier Edmund D. Ridgway and established the Howdy Corporation in 1920.
Competition from Orange Crush, which dominated the orange soda market, motivated Grigg to develop a new, lemon-lime-flavored drink. By 1929, after testing eleven formulas, Grigg introduced "Bib-Label Lithiated Lemon-Lime Soda." At the time, it actually did include lithium, which was sometimes found in natural spring water and was thought to have curative health effects. The new soft drink, introduced only two weeks before the stock market crash of October 1929, was costly compared with the more than six hundred lemon-lime beverages already on the market, and it bore an unwieldy name; nevertheless, it sold well.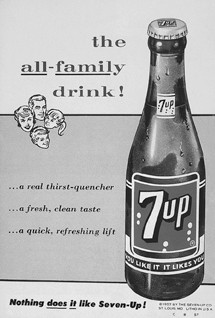 It was not long, however, before Grigg changed the name of his soft drink to 7UP. The origin of the name is unknown, but various theories have been proposed. At the time, 7UP contained seven ingredients and was sold in seven-ounce bottles. Another popular St. Louis soda, called "Bubble Up," may have inspired the "UP" portion of the name. Some speculate that Grigg named his new soda after a card game; others claim that its name is based on a cattle brand that caught Grigg's attention.
The Howdy Corporation fought hard to gain a place for 7UP in a national market severely affected by the Depression. Lacking national distribution, Grigg instituted a clever marketing strategy by selling 7UP to the speakeasies that had sprung up as a result of Prohibition, and it quickly became a popular mixer for alcoholic beverages. After the repeal of Prohibition in 1933, Grigg lost no time openly advertising 7UP as a mixer. In 1936 the Howdy Corporation became the Seven-Up Company, and by 1940 the product had become one of the most popular soft drinks in the United States.
Early 7UP advertising featured a winged 7UP logo and the slogan "Seven natural flavors blended into a savory, flavory drink with a real wallop." In 1967 the "UNCOLA" advertising campaign was launched, followed by "No Caffeine" in 1982 and the cartoonlike character of Spot in 1987.
In the 1990s the introduction of Diet 7UP and of various new flavors was geared toward increasing 7UP's market share. In the United States 7UP is still widely used as a beverage mixer, and home cooks utilize it as an ingredient in a variety of dishes, including cakes and desserts, molded salads, marinades, and pancakes.
In 1986 the Seven-Up Company merged with the Dr Pepper Company; in 1995 Dr Pepper/Seven Up Companies Inc. was acquired by Cadbury Schweppes of London. In 2008 Cadbury Schweppes was demerged. The North American beverages were renamed Dr Pepper Snapple Group, which is headquartered in Plano, Texas.
Becky Mercuri; revised by Andrew F. Smith
Bibliography
Morgan, Hal. Symbols of America: A Lavish Celebration of America's Best-Loved Trademarks and the Products They Symbolize. New York: Viking, 1986.
Rodengen, Jeffrey L. The Legend of Dr Pepper/7-Up. Fort Lauderdale, Fla.: Write Stuff Syndicate, 1995.
7UP.com. http://www.7up.com.
© Oxford University Press, 2013