At seven it was beginning to get dark. Not a sign of the goat man. The moon was still behind the mountain. We lit a lamp under the vine for a sign.
Suddenly out of the dark Apostólyi appeared with two shadowy companions. We started on the supper: olives, bread and wine. Apostólyi countered our bread with better wife-made bread drawn from his shirt. The moon peered over the mountain and splashed the sea with silver.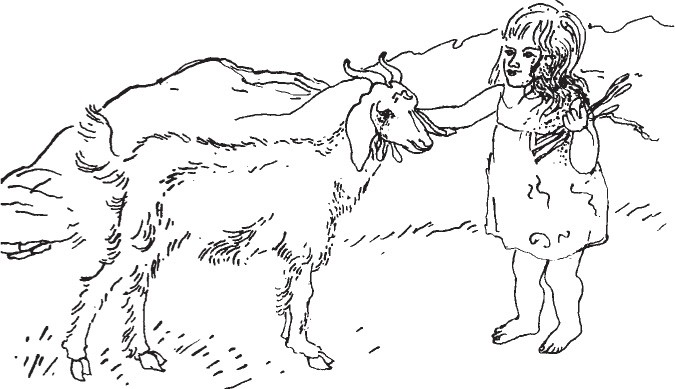 I produced a pan of sizzled goat and proffered forks: the goat was eaten with the fingers. Kid cutlets sprinkled with mountain thyme, they vanished in a moment. Then okra and potatoes, Apollonian dish, cooked with tomatoes, oil and wine. Then tomatoes in a salad with garlic and basil. The wine from Koronós was not considered good, it had no kick. The gourmets passed this judgement, then drank it with abandon. I brought out the fresh goat's cheese they had made for us in our habitation two days before. They wouldn't touch it. They'd made it for us. We must eat it and go on eating it tomorrow. Manólyi materialized another kind of cheese, we had to taste it.