Appears in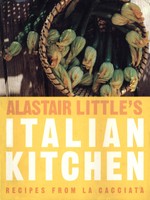 Allow at least 6 stalks of medium asparagus per person; more, much more, would be appreciated. Peel, trim and wash. Season lightly.
Either barbecue or cook on a hot ridged grill pan for 5 minutes without moving, then turn and give the other side 5 minutes. It should be well marked and slightly wilted.
Remove with tongs to a serving dish and dress with a little top-quality olive oil and possibly some shaved Parmesan.
© 1996 Alastair Little. All rights reserved.