Appears in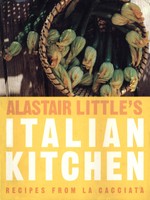 Nothing shouts Italian cooking more than tomatoes. What did they cook with before Columbus discovered the New World and brought back tomatoes, peppers and chillies, all three now absolutely irreplaceable on the average trattoria menu.
In Italian cooking most recipes can use tinned tomatoes. Where fresh are called for, as here, some care and shopping are necessary. Watery, mass-produced tomatoes will not do. Supermarkets now sell plum and vine-ripened tomatoes nearly all year round, but they still lack flavour and ripeness. The solution is to buy a good quality tomato four to five days in advance of doing the recipe. Spread out on an attractive plate and keep out of the fridge in your kitchen. A sunny windowsill would be ideal. You may lose the odd one, but this is a small price to pay for proper tomatoes.
The bar in my restaurant in Frith Street provides an almost perfect ambiance for ripening tomatoes. Perhaps cigarette fumes contribute to the ripening process . . .
© 1996 Alastair Little. All rights reserved.