Appears in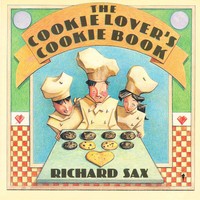 Baking Two Sheets at the Same Time You can bake two cookie sheets at the same time, as long as the oven racks are spaced well apart, the sheets aren't directly over each other, and there is enough space for air to circulate between the edges of the cookie sheets and the oven walls. For even baking, it's usually a good idea to switch positions of the sheets themselves halfway through baking time.
For Even Baking If your oven heats unevenly, try rotating the sheets (that is, turning them back to front) halfway through baking time.
When Are They Done? Good question. Cookies bake quickly, so don't put them in the oven and leave the kitchen. Each of the recipes in this book will tell you what to look for in a properly baked cookie ("lightly browned around the edges," for example), as well as providing baking times, but please remember that all baking times are approximate. Set your timer for about 3 minutes before the baking time indicated; after the elapsed time, check the cookies carefully every minute or so. Just one minute more or less can be the difference between cookies that melt in your mouth, and cookies that are dry as dust. A general rule for all cookies: Take care not to overbake.