Appears in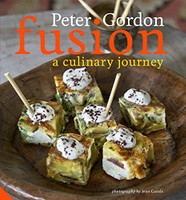 As I wrote in my introduction to this book, one of my seminal food experiences was eating fresh silken tofu, served in a bowl of iced water, at a Japanese restaurant in Melbourne when I was 19 years old.
For many years I've been an avid purchaser of Japanese produce as well as a regular at Japanese restaurants. I've always felt that there's an extraordinary adult clarity and purity to Japanese food, more evident than in other cuisines. Whilst a green coconut curry from Thailand, for example, may be a riot of sweet, sour and spicy flavours (although still combined with an underlying richness), the food of Japan has always seemed to me to be slightly austere. Serious. Delicious, yet a refined cuisine rather than a playful one.
So it was with enormous excitement that Michael and I headed to Tokyo and Kyoto in April 2008 to celebrate my 45th birthday, and our 20th anniversary - which just happened to be on the same day. I felt I was finally heading to my culinary spiritual home, the country that had inspired me for decades, the country whose cuisine had informed so much of what I do. Luckily for me I had help planning our visit in the form of my friend Akiko, who had cooked with me at The Sugar Club restaurant in London back in the late '90s. Akiko was now living in Tokyo, married to Yoshi Takazawa, and they owned a remarkable restaurant called Aronia de Takazawa - a restaurant with just two tables! Akiko and I had been emailing for months and she had quite a few suggestions as to what Michael and I should do whilst in Japan.
Growing up in New Zealand I was aware that my birthday fell around the start of the Kyoto cherry blossom season, but it seemed that as I'd got older, and the world's weather patterns had changed, we might miss the blossoms altogether due to global warming. The word on the street was that the blossoms were opening much earlier this year. Akiko and Yoshi decided that they'd take us to Kyoto, to visit their favourite restaurant in Japan, and help us find any remaining blossoms. What a fantastic idea that turned out to be.
We took the Shinkansen (bullet train) from Tokyo and sped West to Kyoto, which proved to be one of the loveliest cities I've spent time in. Thus began our feasting on some of the most inspirational food I've ever had the pleasure to experience. We arrived at our hotel then immediately headed to Narita restaurant which specialised in tsukemono sush which Yoshi and Akiko were keen to try, having heard about it back home in Tokyo. Tsukemono (pickled vegetables) are a Kyoto speciality, and they come in a huge range of types, textures and flavours. Whilst in Kyoto we managed to try around 20 different examples - from aubergines, with the flavour and texture of firm blue cheese, to daikon, redolent of washed rind cheese with the crispness of an apple, to crunchy radishes and cucumbers that tasted much as you'd expect. These pickles were subsequently served with pretty much every meal we had, and we developed a real liking for them from the first bite.
We left the restaurant and headed to Wakuden tea house around the corner, which Akiko assured us served one of the best matcha teas in all of Japan. Matcha (also spelt maacha) is a finely powdered green tea, which is the centrepiece of the Japanese tea ceremony, although in recent years you may have spotted it appearing in anything from panna cotta, ice cream and even jellies. It was served in a wide shallow bowl, which I found surprising as I thought it would come in small ceramic tea cups, which is how I'd experienced Japanese green tea previously. Yoshi ordered several Japanese desserts that were local specialities, one of which was bizarrely delicious. It would best be described as brown flour-coated jelly. It was, in fact, a type of mountain root starch, cooked into a chewable but soft paste, cut into uneven chunks which were then dusted in a powder called kinako which is made from dark-toasted soy beans mixed with sugar.
We then headed to the food market, which is much like a covered street that stretches for many blocks, lined with cafés and restaurants alongside stores with the most beautiful displays of foodstuffs, cookware, ceramics and even knives. What struck me most forcibly was the extraordinary variety of plant shoots, tendrils, roots and seaweed on display. There are few ingredients that I feel are completely new to me, that I haven't either heard or read about. But here in the marketplace was stall after stall of new, and familiar, edible treasures. One, for example, specialised in kombu seaweed - the mainstay of dash broth, and an ingredient I always add to pulses, especially chickpeas, when I'm preparing them to speed up the cooking process and to add mineral nutrients. They sold beautiful squares of the stuff; long shards of kombu, kombu cooked in mirin with sansho pepper berries, so many different types of kombu, with prices ranging from fair to expensive according to their quality and provenance. Here there were also fresh, salted and pickled sansho pepper berries, shredded red seaweed and green seaweed. I was reminded yet again of the utter diversity of the world's cuisines and that what might seem strange to one culture is commonplace to another.
Stalls selling baby abalone, strange horny shellfish, even stranger looking fish and dried bonito shaved to order (the other mainstay of dash broth) competed for space with others proffering pieces of squid and octopus (you could buy just one tentacle). Vegetable stalls sold fresh bamboo shoots - of which we ate a lot in the coming days, and which bore absolutely no comparison to the canned or frozen matter we're more used to in England. There were also fern fronds, seedling shoots, and what I think were the tips of large tree branches, picked before they could begin to turn woody. Soy sauce (both wheat-free tamari and the more common shoyu), miso of various shades and robustness, mirin, sake for cooking and drinking - I had found food paradise in a Japanese marketplace. I bought a beautiful knife at one shop and was told, politely but firmly, that it was only to be used for breaking down chickens. Absolutely nothing else!
That evening we walked across town in the cool April air to a tiny restaurant owned by a wonderful chef friend of Yoshi's, Mr Kawamoto. With only six seats at the bar, and just two low tables capable of seating perhaps another eight guests, this was our introduction to locally sourced and produced food, using purely what was in season. Cherry blossom time coincides with the start of the bamboo shoot season (a delicious treat), as well as with the availability of fresh sansho pepper berries and kinome leaves. Sansho pepper and Sichuan pepper are actually the same ingredient, but you're more likely to be familiar with it under its latter guise - its Chinese name. It's used to astounding effect in the cuisine of Sichuan, as well as in Nepalese and Sumatran cuisines. Both the sansho berries and the young leaves (kinome) herald the start of spring, and hence it's likely that if you're in Japan in April you'll often be served bamboo shoots with kinome. The berries and the leaves are quite bizarre as the effect they have on the tongue is one of a numbing tingle, and the flavour is best described as a citrus pepper. New Zealanders will know this numbing sensation from eating indigenous kawa kawa leaves, but it is quite unusual for most other cuisines.
It was also at this meal that we ate sashimi from a living fish. A first. I know it sounds awful, and I'm sure the fish wasn't too happy either, but apparently it is only a skilled chef who can manage this while the protein is still breathing. Needless to say, our host and fellow guests were ecstatic. Less dramatically, a ceramic bowl filled with soy milk sat on a charcoal-fired brazier on our table. Every few minutes Akiko would skim the skin off the top and we'd take turns eating the skin, which is called yuba. This was a brilliant example of the subtlety of Japanese cuisine. Bamboo shoots braised in seaweed sauce followed, garnished with kinome leaves, along with sushi made from fermented one-year rice and mackerel. It was an inspiring meal and set the tone for the rest of our time in Japan.
Next day, our day of celebration, we headed off to the Ryoan-ji garden, famous for its Zen stone garden. We walked amongst the planted gardens and the amazing twisted cherry blossom trees, took time to drink in the quiet of the garden itself (admittedly hard to do when you have 100 people sitting either side of you), then headed off to have the best meal of my life at Yoshi and Akiko's favourite restaurant, owned and run by Hisao Nakahigashi and his wife, who oversees the restaurant. Again, this was a tiny place, with seating for about a dozen at the bar, directly facing the culinary action taking place behind it, with a tatami room on the first floor for larger groups. Here on the ground floor, Mr Nakahigashi and his team quietly produce a daily changing no-choice kaiseke meal (many courses that follow a particular pattern) featuring produce he's mostly sourced himself that morning from Kyoto's environs. He'll have foraged for herbs, shoots, weeds and bulbs from the land, visited fishermen who catch river fish for him and sourced baby squid and other ocean fish from long-time reliable suppliers. I have to say he's the sort of chef one could easily turn into a hero - quietly but expertly producing the most wonderful food, using only what's at hand. A highlight of the meal could be best described as a broth with sliced bamboo shoots and seaweed, served in a pottery vessel with a spout, heated over a gas flame. It was served with salted sea cucumber ovary which looked like a small carrot, and some fresh kinome leaves. The chewy, salty sea cucumber was truly delicious, the broth subtle, the bamboo crunchy, and the kinome leaves numbing the tongue in a pleasant way. Another dish featured paper-thin slices of carp, straight from the local river, served with the weeds and flowers of the plants growing alongside the river - marvellous. As it can take up to five months to get a table at Mr Nakahigashi's restaurant, you'd best plan a long way ahead if you want to eat there. You'd also be advised to bring along someone who can speak Japanese if you want to know what you're being served, as none of the staff spoke English, and it was fascinating finding out all the details of the meal.
And so it went on, one amazing meal after another. Warm fresh tofu was served to us as part of a kaisek breakfast when we stayed in the amazing Hiiragiya Ryolcan (Inn) in Kyoto. The tofu was presented in a wooden container filled with hot water heated by a lump of charcoal, and I have never had a breakfast like it in my life. Taro was served alongside tofu sheets filled with rice, a rolled egg omelette was presented in dash broth with fresh kinome leaves, and grilled river fish came with tamar and pickled ginger.
The pick of our remaining meals in Tokyo would have to include the incredibly simple but delicious chilled sobagak (buckwheat curd served with tamari, wasabi and spring onions) prepared by chef Karibe at Takeyabu restaurant in Roppongi Hills. At Mutsukari restaurant in Ginza we ate the omakase (chef's choice) menu which included a brilliant dish of simmered bamboo shoot, webfoot octopus, wakame and butterbur topped with sansho pepper. At Sadaharu Aoki's patisserie in the Midtown shopping centre (he's based permanently in, Paris but luckily has a few stores in his home-town) we ate three delicious cakes which included his take on Gaston Lenotre's 'Opera' - but this time with the addition of matcha tea. At Chocolate House Mon Loire we bought blue cheese chocolates that were simply superb. At Nabura in Roppongi we ate the best selection of sushi of my life, all prepared in front of us by chef Masaru Furusawa. However, the highlight was a sea urchin that had been emptied of itself, filled with a light and soft jelly that hinted at dashi, topped with the sea urchin roe and freshly grated wasabi - absolutely stunning.
And just to put the icing on the cake, as it were, we ate at Akiko and Yoshi's restaurant one quiet Sunday morning. Yoshi was centre stage in the dining room, cooking from a 'stove' on a slightly raised platform about 2 metres from where we sat. There were around eight courses in total, which we found fascinating. Yoshi has taken some of the concepts from the molecular gastronomy school of cooking, using liquid nitrogen to freeze oils and purées; foaming ingredients and utilising seaweed-based powders in the construction of some of his dishes, such as his bitter digestive-like jellies served on a beautiful glass slipper, to play with his guests' concept of what constitutes a meal in the 21st century. However, he's introduced these ideas into a personal cuisine that is entirely delicious - where a certain playfulness doesn't hide the quality of his food. His vegetable mosaic terrine is a thing of beauty. With more than a dozen different vegetables gently held together in a jelly, then wrapped with a red cabbage border, the terrine is two mouthfuls of crunchy texture, strong fresh flavours and gorgeous visuals. His Candleholder is a clever play on two ingredients that were made for each other, yet would seem to be a modern Fusion classic - foie gras and mango. The foie gras is presented much like a crème brûlée, but sitting inverted atop a 'candle' made from mango salsa. A delicious thin slice or two of fig bread is placed on the side. As for his beef dish, in which he combines rice crackers, seaweed, dehydrated soy sauce powder and several other Japanese ingredients - it's just marvellous.
Whilst Japanese cuisine is clearly based on a classical repertoire, utilising seasonal ingredients cooked simply, often presented incredibly beautifully, there is a sense of experimentation and Fusion afoot. Blue cheese chocolates, green-tea French patisserie, mango served with foie gras. Combinations that are new, using ingredients not always indigenous to Japan's numerous islands. These are not crazy things dreamt up by a group of maverick cooks, these are dishes that are being created by some of Japan's top chefs. When I read many years ago that olives were being grown in Japan, I have to say, it made me wonder if olive sushi would begin to appear on the country's menus - and if it did, would it be labelled absurd Fusion sushi, or simply contemporary Japanese cuisine?
© 2010 Peter Gordon. All rights reserved.