Appears in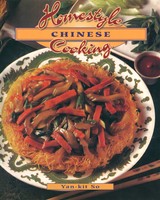 Of all the many different kinds of Chinese dishes, if not all the foods in the world, I confess that my favorites are those stir-fried in the wok. Such dishes are light, juicy, healthy and, above all, so fragrant that I can never tire of them. It is not surprising, therefore, that in my pursuit of the Chinese culinary art as a cook, teacher, demonstrator, and writer, I aspire to make stir-frying my forté, like so many great Chinese chefs. The chopping and cutting up of ingredients is, admittedly, timeconsuming and patience-trying, but I accept it as a worthwhile necessity. When it comes to marinating, an essential part of Chinese cooking, I enjoy the mixing of flavors, seemingly at random but really aimed at achieving either a well-balanced result or an emphasis on a particular flavor.
You may well ask why in this book the measurements for the seasonings are so exact, down to the last ¼ or ⅛ of a teaspoon! Do the Chinese really cook this way? The answer is no. Like all good cooks, they instinctively sprinkle in a pinch of salt, a dash of soy, a bit of sugar, and a splash of wine. And yet, if you actually watch them do so, you will note the "pinch" and the "bit" always measure more or less the same. For those new to Chinese cooking who are not familiar with the simple art of mixing those flavors so essential to the success of Chinese cooking, I have painstakingly worked out the balanced amount for them. But by all means free yourself from my guidelines and start having fun mixing your own concoctions of flavors. Only by doing so will you become your own expert Chinese cook!
What captures my imagination about stir-frying is the very operation itself—exhilarating, verging on a sense of theater. I love the near-explosive sound of the sizzling of the garlic and scallion and the splashing of the wine. When I wield the wok scoop and turn and toss the morsels around in the wok, I feel as if I were a conjurer, magically, in the twinkling of an eye, changing the raw pieces into a succulent and fragrant dish.
For me, there is nothing more therapeutic than stirring away in the wok to get rid of any pent-up emotion or tension I may feel, nor is there anything more gratifying than to have a wokful of goodies shared and enjoyed by my family and friends.
© 1997 Yan-Kit So estate. All rights reserved.