Appears in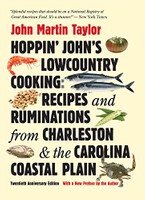 The numbers are staggering. By the mid-nineteenth century more than seventy-five thousand acres of land were producing rice in the Lowcountry, yielding 160 million pounds. In 1860 the total national crop of rice was 5 million bushels, 3½ million of them grown here in South Carolina. Nathaniel Heyward, the most productive of the rice planters, owned twenty-three hundred slaves. His friend William Aiken had as many as one thousand on his Jehossee Island Plantation alone. Carolina Gold was considered the best rice in the world, demanded by European royalty and Chinese emperors. It was, as Macky Hill says, the caviar of the early nineteenth century. And he should know: He is a passionate historian and his family owns Middleburg Plantation, where the ruins of the first commercial rice mill still stand on an old rice dike on the banks of the Cooper River and where the lovely old house—the oldest wooden house in South Carolina—stands as the lonely prototype for the distinctive Charleston "single house."
I know people in the Lowcountry who eat rice—or grits—twice a day. And in the days of the rice plantations, either rice or hominy was served in one form or another at every meal. The Lowcountry was rice. And while early Carolina cookbooks are filled with recipes for rice—always Carolina Gold—no one had a clue as to how this inimitable variety tasted until Richard and Patricia Schulze started growing it again at their Turnbridge Plantation just inside the state line near Savannah, Georgia, a few years ago.
Avid hunters, the Schulzes had planted rice on their property to attract waterfowl. Fascinated by stories of Carolina Gold, however, they were determined to reintroduce the legendary rice to the Lowcountry. Theirs is a story of research, perseverance, and hard work. After several years they convinced the Rice Institute of the U.S. Department of Agriculture to propagate some seed rice from the few grains of the rare strain that had been stored in its seed bank for sixty years. For three years the Schulzes planted the rice, developing what could be considered a pure strain, first harvested in 1988.
Carolina Gold is fragile. It was often broken in the hulling process, as it is today in the Schulzes' hundred-year-old machine. Its flavor is delicate as well, a buttery, almost creamy rice that stands deliciously on its own. The old cookbooks tell us to wash the rice, boil it in three times the amount of water for ten minutes, then pour off the water and let it steam over a very slow fire for another fifteen minutes. In Charleston today most people have in their kitchens what is called a "Charleston rice steamer" in which the rice cooks in an equal amount of water in a double boiler modified with steam vents. Unfortunately, most of these steamers are made of aluminum, with questionable side effects, and the two biggest manufacturers have discontinued the product. In the steamer, perfect rice cookery is effortless: after twenty minutes over a flame the grains have absorbed all of the water and much of the steam and need only be fluffed lightly with a fork before being served. You can rig a steamer on your own, using a wok, a heatproof mixing bowl, and a Chinese bamboo steamer: Put an inch or two of water in the bottom of the wok. Equal parts of rice and water are added to the mixing bowl and placed on the steamer rack in the wok, then the entire affair is covered with a domed wok lid. But perfect rice cookery is a simple affair in a pot with a tight-fitting lid as well.
Verta Grosvenor, with roots in the Lowcountry, tells in Vibration Cooking how she prided herself as a child on her rice cookery: "I was sixteen years old before I knew that everyone didn't eat rice everyday. Us being geechees, we had rice everyday. When you said what you were eating for dinner, you always assumed that rice was there. That was one of my jobs, too. To cook the rice. ... I could cook it till every grain stood by itself."
When Verta comes to visit, she has a pot of rice on my stove within an hour of her arrival. Her foolproof method has made rice cooks of some friends of mine who otherwise cannot boil water:
Use one part rice to 2 parts water. Always use cold water. . . . Soon as it comes to a boil you turn it to a simmer and you cover it with a tight cover. Let it cook for exactly 13 minutes and then cut it off. Let it stand for 12 minutes before serving.
You might want to salt the water, or you might cook the rice in stock instead. But the timing and proportions in Verta's recipe are classic.
Plain steamed rice invites a host of accompaniments, including okra and tomatoes, Sieva beans, field peas, gravies, and gumbos. In The Carolina Housewife there appear more than thirty rice breads and several entries under the heading "Vegetables."
Rice is used in Lowcountry sausages and pâtés as well, but seldom in our sweets. It's the foundation of pilau and the filling for gumbo. When I am drying tomatoes or making catsup in the summer and fall, and have fresh tomato juice, I cook Sieva beans in a large quantity of salted tomato juice, then add rice to the pot for a side dish of beans and red rice, to which I then can add chicken, shrimp, ham, and/or sausage as a pilau for a main dish.
Legumes are cooked with bits of salted or smoked pork and served over rice, with corn bread on the side. A bottle of hot pepper vinegar is passed with the dish, which may alone comprise supper; a richer meal might include sliced tomatoes and a fried pork chop or grilled birds.
Most soups and stews are poured into bowls holding a mound of rice; you will see it throughout the book in snacks, breads, salads, and even in one dessert.
© 1992 All rights reserved. Published by UNC Press.