Appears in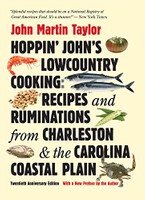 The summer after my grandfather died, when I was 12, I went to spend some time with my grandmother, who lived in western Tennessee, 600 miles from the Lowcountry. I learned more about food in those few weeks than I would learn in many years to come. It was Grandma's approach to living more than her recipes, however, that so influenced me, and I am forever grateful for that one time alone with a real homemaker and her garden. There was much solace for her in her daily chores, and I too learned to enjoy hanging clothes on the line (which I still do), watching for cracks in the soil around the potato plants, and drying apples in the sun.
We removed all the window screens from her house, scrubbed and hosed them clean, and set them in the sun to dry. We then gathered green summer apples from the trees that bordered the garden, and she showed me how to pare, core, and slice them. We placed the slices on the screens that were stacked on concrete blocks in the sun. Every night we carried them into the garage, away from the dew, then back out into the sun each day until, after about a week, the apple slices were perfectly—and naturally—dried. But the real treat of the summer came when the grapes were ripe.
More species of Vitis, the grapevine, grow wild in the United States than in all the rest of the world combined. And second to apples, grapes are our most widely cultivated fruit. At Grandma's, there were both wild muscadines trailing up over the trees beyond her property and cultivated American Concords, whose flavor is what most Americans think of as "grape" and wine connoisseurs as "foxy." The muscadines, which grow only in the Deep South, are the sweetest of the American native varieties. They grow in bunches, not clusters, on vines that often climb into the highest reaches of hardwood forests.
On the border of the woods beyond my grandmother's garden, vines of wild purple muscadines and tawny scuppernongs—each a variety of native Vitis rotundifolia—could be found trailing up into the trees, entwined with reddish catawbas, a variety of Vitis labrusca, which probably escaped from 19th-century cultivation there. We would spread old sheets beneath the vines to catch falling grapes as we pulled vines down through the limbs. We didn't worry that the birds left us just a few grapes, because she had Concords trained along the fence and on an arbor.
Making grape preserves that summer with my grandmother remains one of my favorite memories, and I look forward each year to the brief season, which varies from state to state, when I can buy these native American "slip-skin" grapes at farmers' markets and roadside stands. My waste-not- want-not grandmother would be proud that I know wonderful uses for those vines we would pull down and for the grape leaves as well.
Early English accounts of the Carolina coast speak of vines so fragrant that sailors could smell them days before the boats reached land. Nowadays, agricultural spraying that coincides with the vines' blooming often prevents the fruit from setting. Fortunately, in the Lowcountry, both scuppernongs and muscadines have taken well to cultivation and are widely available in late August and early September.
Greeks were among the earliest of settlers in the Lowcountry, and many culinary traditions thought of as purely southern—such as preserving watermelon rind—have long histories in the Mediterranean. Charleston's Greek Ladies Philoptochos Society first published its excellent Popular Greek Recipes in 1958, including instructions for canning grapevine leaves. Leaves are best gathered in the spring and early summer, when they are large and bright green. The fruits mature in late summer. Then, in the fall, just as the leaves begin to drop, vines can be pulled down—while they are still somewhat green and flexible—and used in wreaths or cut into foot- long twigs for grilling. If there's a hunter in your family, have him or her bring home some vines while out in the woods in the fall. The bright yellow and red leaves are unmistakable.
The English had embraced all sorts of pickling and preserving ideas from Asia when Charleston was settled. In India, the seeds of grapes are often ground into chutneys, but the seeds of our native slip-skin varieties are far too bitter for the American palate. If you do not live in the Lowcountry, try any slip-skin variety available in your area. Concords are delicious in these recipes, but they are sweeter than scuppernongs, so you may want to add a bit of lemon peel and juice and/or reduce the sugar if you're using Concords.
© 1992 All rights reserved. Published by UNC Press.