Appears in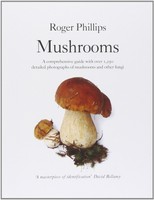 In the introduction to my first book I said that one day I would have to produce a second volume. It has taken 25 years but, at last, I have it ready for publication.
There are four main reasons for a second book. Firstly, I have lots of new pictures, and more than 200 are of species that were not included in my first volume. Secondly, the massive amount of research work on nomenclature in the last few years has resulted in a great many changes to the Latin names, all of which have been updated in this volume. Thirdly, English Nature and the British Mycological Society (BMS) have published a list of English names for all the major fungi in the British Isles; these have also been included. Fourthly, because of the considerable time that British people now spend travelling in Europe, I have included some European species that are not, as yet, recorded in our isles, but which travellers might find on their visits abroad. Many of the recent Latin names given to well-known fungi will be new to the experienced reader so, to avoid confusion, I have given the older, probably better-known names as synonyms, and included them all in the species index.
© 2006 All rights reserved. Published by Macmillan.