Appears in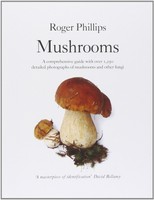 The British Mycological Society (BMS) is open to all interested in mycology. If you would like to join, the simplest way is to log on to the website and go to the membership section (www.britmycolsoc.org.uk). In the autumn 'fungus forays' are held on most weekends all over the British Isles, often in conjunction with a local natural history society.
If you want to carry your study of fungi further, the BMS has a library of some 1,200 volumes, many of which can be borrowed by members. The up-to-date library book list is available on the society website.
© 2006 All rights reserved. Published by Macmillan.