Appears in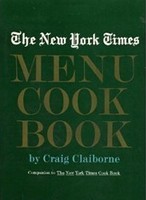 There are as many good ways of dishing fish as there are creative cooks and there is almost no method of cookery that is not adaptable to the creatures that, as humorist Wallace Irwin once put it, "swim or swish" They may be poached and curried, baked and fried. Broiled fish is one of the most delectable of dishes and sautéed fish, whether amandine or belle meunière, is admired the world around.
There was a time within recent memory when fish for America's middle country was limited almost entirely to the fresh-water varieties, but with freezing, ice pack and modern transportation the piscatorial vistas have broadened considerably. That is not to say, however, that anything surpasses fish freshly caught from ocean, lake or mountain stream.
© 1966 Craig Claiborne estate. All rights reserved.