Appears in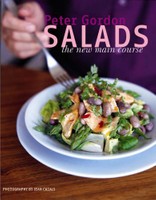 Throughout this book I list in the ingredients sprouts and cress – and usually suggest you use whatever you have at hand. When I was doing my apprenticeship, I used to sprout mung beans, fenugreek seeds and mustard cress at home for my salads. These days, however, the variety available through farmers markets, supermarkets, food halls and better vegetable suppliers is extraordinary. Throughout the book you'll see rocket cress, basil cress, coriander cress and new sprouts such as China Rose, Buck Sorrel, Russian Cress and numerous others.
While many of these will be hard to track down, you can in fact grow sprouts yourself at home. When sprouting any seeds or grains the worse thing you can do is let them get waterlogged, as they will rot. So make sure you keep them moist but not drowned in water.
Head to your local health food store and chances are they will have special jars for growing the likes of mung bean and chickpea sprouts. These tend to be jars with a mesh lid that screws on. You put the grains in the jar and soak them overnight. Next day, drain the water from the jar and then begin a daily routine of wetting the grains and draining them. Eventually they'll sprout and you'll be able to eat this nutritious food source. Such sprouting jars should come complete with their own instructions.
Mustard cress is grown differently, and you can also use this method for growing the herb cresses (basil, coriander, shiso, fenugreek, parsley). Line a soufflé dish or ramekin with cotton wool (cotton-wool pads are a good fit too) and dampen with water. Sprinkle generously with seeds (too few and they find it hard to grow straight) and leave in a sunlight-filled place (but not in direct sunlight). Next day, moisten the cotton again. This now goes on for up to 3 weeks. Once the seeds sprout, they will quickly shoot up, but you want them to be at least 5cm tall before you snip them at the base.
Microgreen is really just a fancy word for a baby salad leaf. The name seems to have originated in America and I can still remember seeing my first examples of them when I went for a job interview at the Sign of the Dove restaurant in New York in 1988. The salad chef had the most tiny frisée, rocket, red oak leaf and sorrel imaginable. He also had baby beetroot leaves and baby silverbeet. I was absolutely gobsmacked that they could be so small. These days, anyone with a garden or even a window box can grow them. Sow your seeds a little denser than normal and, when they have grown somewhere between 5-8cm, cut them 1cm from the base. Use as soon as possible and store in an airtight bag in the fridge.
© 2005 Peter Gordon. All rights reserved.