Appears in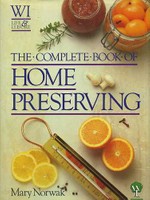 Cleanliness is essential in winemaking, for by preparing the most suitable environment for yeast to operate, ideal conditions are created for the growth of bacteria. Everything must be done to ensure that no bacteria are present when the fermentation is started. All equipment should be sterilized before use with a solution made up from two Campden tablets (sodium metabisulphate) and a saltspoon of citric acid in one pint/500ml water. Keep the solution tightly corked in order to avoid deterioration. When storing empty jars, leave them with ½in/12mm of this solution in the bottom. Alternatively if the sodium metabisulphate is in powder form the solution is made up of 5oz/125g to 1 gallon/4.5 litres warm water.
For sterilizing use: 8fl.oz/200ml stock solution and ¼oz/8g citric acid to 1 gallon/4.5 litres water.
For purifying the must: ¼fl.oz/8ml stock solution to 1 gallon/4.5 litres must.
© 1978 Mary Norwak estate. All rights reserved.