Appears in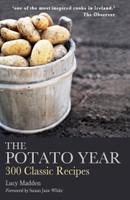 'What is this?' an American visitor asked recently, indicating a row of plants growing in our kitchen garden and dotted with purple and white flowers in full bloom. That an adult should not be able to identify what is without doubt one of the world's most important crops, was a shock. To look down on the flowers that Marie Antoinette had once worn in her hair, and not to know them, was this possible? Add to this the fact that the visitor's existence on this planet had not a little to do with the one-time failure of the crop, which caused the great Irish famine that sent his ancestors on their diaspora to the New World, and the lack of knowledge was even more bewildering.
But then, sadly, we don't all know our potatoes. Extraordinarily, many people prefer pasta, rice or couscous. Not I. My father, a man whose relationship with the soil could only be described as reluctant, and who once planted a hedge of fuchsia cuttings upside down, managed to produce a crop of potatoes that, steamed with mint then gilded with butter, were as epicurean as anything I have eaten since and began a life-long love affair for me with the vegetable. When I had the good fortune to marry a man whose family owned Hilton Park in Co. Monaghan, with its large walled gardens that seemed to beckon to a potato grower, years of cultivating and experimenting with different varieties of the crop ensued. When, some thirty years ago, we decided to open the house to paying guests as members of Hidden Ireland and people from all over the world began to visit, it provided an opportunity to widen my collection of potato recipes, which, year by year, increased alarmingly.
One summer a retired CIA colonel from Washington DC put me in touch with the Potato Museum* in his home town, and the idea of bringing out a book about the potato began to germinate. The arrival of their newsletter, Peelings, was as exciting as anything else the postman could deliver and with it began my realisation that the influence of the modest tuber was not just as a food source of global significance and inspiration to writers and painters, but also as a mover and shaker in the history of our world. It saddens me then that this vegetable, in spite of attempts to revive its popularity in the last twenty years, has yet to achieve star status. It is hardly ever mentioned in the numerous books and articles that discuss healthy eating and yet its nutritional qualities are well established. I recently had a letter from a nutritionist who has noticed that patients suffering from depression who switch from a wheat-based to a potato-based diet find their symptoms improved. I have read, too, that the doctors who examined the immigrants passing through Ellis Island, New York in the latter half of the 1800s found the Irish to be fitter than those from other countries. Was this in spite of, or because of, their reliance on the potato? The tuber's medicinal properties, it seems, are more appreciated in South America, where at one time potatoes were used as dowries.
This book was originally put together in calendar form, with a recipe for every day. This seemed reasonable, since the character of potatoes and potato dishes changes with the seasons. Publishers thought otherwise, so with the help of my daughter Amelia, who understood the then mysterious world of desk-top publishing, we put together the first edition of the book ourselves. A Trinity friend of hers, Peter Bland, a young law student, came up with the illustrations and before long I was walking out of our local printers holding a copy of The Potato Year. To our surprise the book sold well, and a second edition ensued.
Since the first edition of The Potato Year in 1992, I have received many letters that attest to the ubiquity and love of the vegetable. I have learned of Potato Days and events celebrating potatoes all over the world. Here in Ireland in 2008 a schools' competition, 'Meet the Spuds', was initiated by Agri-Aware, encouraging children to grow the tubers and chart their progress. I remember the winning project included songs about potatoes. I have been sent recipes from interested strangers; a Dutchman sent me a recipe for Hutspot, a potato dish of historical significance, cooked annually as a commemoration of the independence of the Netherlands. A Belgian television crew filmed here to include Ireland in their six-part series covering different countries from both hemispheres where potatoes have had a special influence. The potato has indeed played a significant role in the history of our world.
So keep your pasta, polenta and lentils, away with your rice, couscous and quinoa, these are mere upstarts. Bring back the potato to its place of significance on our plates. The vegetable deserves reverence. The deep-fried 'roast' potato that is slapped beside a lump of mash in certain hostelries is an insult to the plant and our palettes. Cooked instead with respect, some of the greatest dishes in the world have potatoes at their heart and can be fast food at its best. Add to that the fact that potatoes want to grow in our gardens; in ours they almost grow like weeds. Pushing back the earth to reveal those golden orbs is one of the gardener's great experiences. I might almost say it is one of life's great experiences.
* This museum is now the Food Museum, Albuquerque.
© 2015 All rights reserved. Published by Mercier Press.