Chop the truffle finely and mix three-quarters of it into the beef by hand. Cover loosely and let sit at room temperature for 4 hours, so that the truffle perfume permeates the meat.
Mix the remaining truffle into the mayonnaise. Refrigerate it covered for a few hours.
Season the truffled burger meat and form into 4 patties by hand, making neat edges but handling it as little as possible. Do not compact the meat.
Split the muffins. Fry, griddle, or grill the hamburgers, seasoning them a little more on the outside as they cook. Toast or grill the muffins and butter each half. Put the burgers on the muffins, spoon 1 tablespoon of the mayonnaise on top of each burger, top with the other muffin half, and serve at once.
Another great brain food, for cold-night eating and only for the brave, is blinis. My Russian uncle and his roué pals explained to me many times, with nostalgic tears in their eyes, how to judge how much butter one should use with blinis: enough, they said, so that when one picked up a blini or a piece of coulibiac, the butter should run down the soft inside of one's wrist, through the ruffles and into the shirt sleeve. I always took it for granted that the vodka took care of any ensuing butter discomfort throughout the rest of dinner.
To put that assumption to the test, I held a twenty-first-birthday party for an undergraduate friend in Cambridge, Massachusetts, in 1970, while I was studying graduate architecture. He had never been to my uncle's manhood initiation lunches, and needed, so I thought, some old-fashioned Russian training. Among those present were the guest of honor, John McSween, blond, all-American, but with the inner workings of Southern heritage; an illegitimate grandson of Edward VII; Philip Core (already starting his publishing and painting career); some ballet students; and some old New York family inheritors.
To this day there are as many versions of the end of the party as there were guests, but there was unanimous agreement that three blinis are the maximum and no amount of butter is too much.
Even now it takes weeks to train cooks to use enough clarified butter on a blini. I have to say "More . . . more," as their eyes grow larger and whiter.
The most satisfying way to eat them is with frozen vodka. One "shoots" the vodka down whole, waits just until the burn starts in the back of the throat, then pops the whole, caviar-laden, buttery, creamy hot blini into one's mouth. This exercise needs large napkins and a seat for everyone.
When I look back at personal favorites, at the momentary passions that have happened sometimes by accident and can be repeated, I remember the terrace of the Oliver Messel suite at the Dorchester Hotel in London one pink and blue evening in 1958, and a cocktail party given in anticipation of my return to America. That is when I discovered gin and tonic and canapés. To this day, on a hot evening of a harried day, a tall Waterford crystal glass filled to the brim with ice, a full measure of dry gin, the pulp of half a ripe lime, cold Schweppes tonic water (and a few violets) can bring, for a while, perfect peace.
In the category of memorable drinks I would also place the margaritas in Yelapa, a little fishing village near Puerto Vallarta, where I had gone for some severe recuperation after the first year at Chez Panisse. I would lie in a hammock and watch the day boat arrive and leave, a process that consumed about six margaritas. They were perfection: freshly squeezed lime juice, ordinary tequila, and sugar syrup, with no salt on the glass, and very, very cold. The salt was supplied by the occasional dip in the turquoise ocean; coming back to the hammock with the salty tropical water still dripping down my face, I'd be handed a fresh cold margarita, and a minute portion of the seawater on my lips became incorporated in the cocktail.
I remember great moments of a huge and cold Scotch and soda after dinner instead of brandy, or freezing champagne after working in the garden all day in summer or the perfect smoked salmon at the Hyde Park Hotel in London in the fifties (salmon of that quality is very rare these days). My taste for that cold-smoked salmon made from fresh fish (not frozen), and sliced paper-thin at a long, shallow angle, placed together with the dark meat from beneath the skin on a plate in a symmetrical pattern, was formed on a voyage on the Queen Elizabeth from New York to Southampton, when I ate it three times a day. I serve it now with grilled brioche or bread. Some black pepper freshly ground and maybe some lemon are all it needs—dispense with the capers, onions, or any other garnish.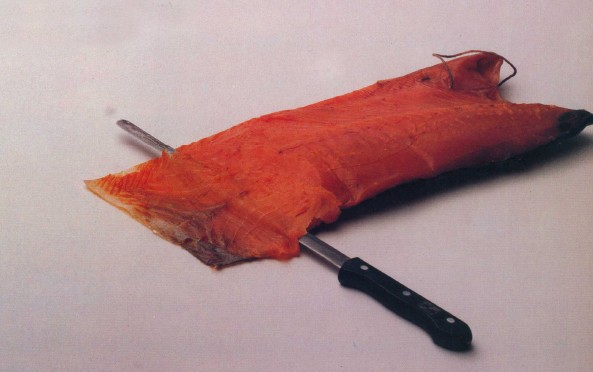 Some simple dishes take a great deal more work than salmon or blini, however, and often they are not so obviously appealing visually. A great such favorite of mine is fish soup, the soupe de poisson of the south of France. In French Provincial Cooking, Elizabeth David says, "I don't think it is possible to make the soup without all those odd little Mediterranean fish, which are too bony to be used for anything except la soupe," but I made it for her with great success in London in 1979 for a dinner with Richard Olney and Sybille Bedford. The soup takes two days and costs a fortune, but the reward comes when the tureen is brought to the table and one sees a faded but deep coral-pink liquid, the hue of worn Mexican tiles, and smells the rich aroma. The taste is as broad a spectrum of flavors and essences as anything I know. If you have ever loved the sea and fish and shellfish, that bowl of simple liquid holds their entire mystery. For the recipe, and if you are in the south of France go to the restaurant Bacon in Antibes.
Whereas the fish soup is fairly insignificant in appearance (except as it can evoke one's memory and nostalgia), a very simple dish that also looks stunning is one that I first cooked for James Beard in the mid-seventies, a soufflé of sea urchin cooked and presented in its spiny shell. I had never cooked for Mr. Beard, except at Chez Panisse. Even though it was there he told me that if he had to choose four restaurants in the United States to revisit, they would be The Four Seasons, The Coach House, Tony's, and Chez Panisse, I was very nervous to be cooking for him, let alone at home, with no backup staff or professional equipment. Up to the morning of the day of the dinner, I could not decide what to serve. I wandered around Chinatown in San Francisco, looking for inspiration by way of available supplies. I saw several deep-sea urchins, each the size of a large grapefruit. I knew I must have them, whatever their preparation or place in the meal. When I faced them in the kitchen that afternoon, from somewhere came a memory of a recipe for sea urchin sauce that referred to using the sauce as the basis for a soufflé. "Right," I thought aloud. "Soufflés they will be." It was too late to buy individual soufflé dishes, so the shells just had to do. At the moment of opening the oven door, my heart held by cold hands, I saw that the scheme had worked. The spines were intact, a wonderful ocean smell began to waft into the kitchen, and best of all, the soufflé mixture had risen above the craterlike openings in the shells, puffy, pink-beige, and beautiful. I rushed them to the table. Jim tried a spoonful. No word was said. He looked up slowly, aware of the theatrical effect, rolled his eyes slowly, and said, "My God, that is the best thing I have ever tasted."