Peel the avocado and cut into six slices, lengthwise. Toss the avocado strips in a few drops of the lemon juice to help hold the color, and set aside.
Gently hand-shred the seafood sticks (they'll form long strips easily), or pick over the fresh crab meat discarding cartilage. Toss the seafood shreds or crab in the remaining lemon juice and let it stand for 5 minutes before draining.
In a small bowl, mix the horseradish powder with the water, stirring well to make a paste.
Cut one sheet of the seaweed into thirds; each roll will use one of these strips plus a full sheet.
Take one full sheet of seaweed and lay it on a sudaré (slatted bamboo mat) so that the shorter edges of the seaweed run parallel to the slats of the mat. The shinier side of the seaweed should face down. Dampen your hands lightly with water and spread 1 cup of seasoned rice evenly over the seaweed, leaving a border of 2 inches on the far side. Lay one of the three extra strips across the middle of the rice.
Using one third of the horseradish paste, paint a stripe across the extra strip of seaweed. Take one third of the seafood-stick shreds and lay them evenly across the seaweed. Take two strips of avocado and lay them evenly on top of the seafood shreds.
Place your thumbs under the mat and your forefingers on top of the seaweed in the lower right and left corners. Lift slightly and roll snugly to close the fillings. If necessary, help seal the roll with a few grains of rice on the far edge. Lay the roll seam side down on a clean, dry, flat surface.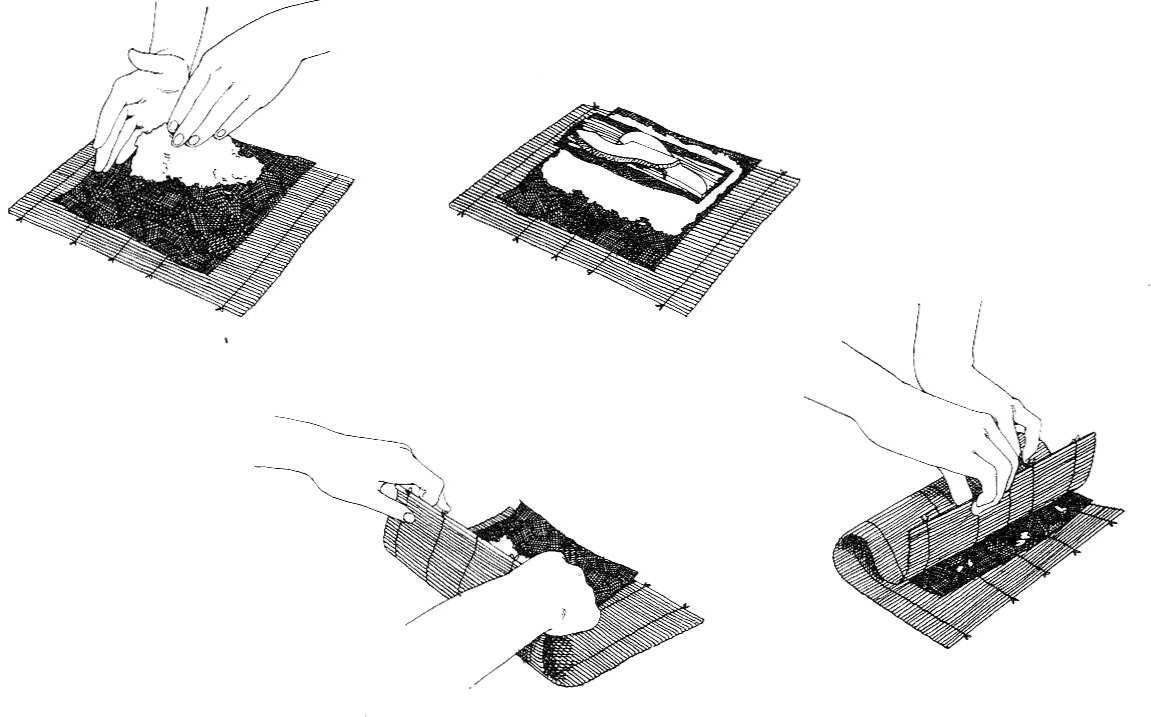 Make two more seafood and avocado rolls in the same manner as the first.
To slice the rolls, use a sharp, damp knife (I like to keep a damp cloth next to my cutting board and draw the blade of my knife over it before and after each slice). Each roll should be cut in half, then the halves into three pieces each yielding eighteen pieces in all. Serve with soy sauce on the side, for dipping.