Mix all the marinade ingredients in a bowl large enough to hold them and the pieces of rabbit. Add the rabbit and mix well with your hands until all the pieces are covered in marinade. Let sit 15 minutes, mix again, and let marinate another 1½ hours, mixing once more.
Put the dried mushrooms in the chicken stock to steep for 30 minutes.
Remove the pieces of rabbit from the marinade and set the marinade aside. Dry the rabbit pieces with paper towels, season with salt and pepper, and dust with the flour.
Heat the olive oil in a heavy skillet with a heatproof handle or a cast-iron casserole. Sear the rabbit pieces in a single layer with 1 inch between the pieces so that they don't steam from overcrowding and the oil doesn't burn from not having enough pieces in the skillet. When lightly browned on one side, turn the pieces over and brown on the other. Remove the pieces and put them on a wire cooling rack set on a baking sheet.
Preheat the oven to 325°F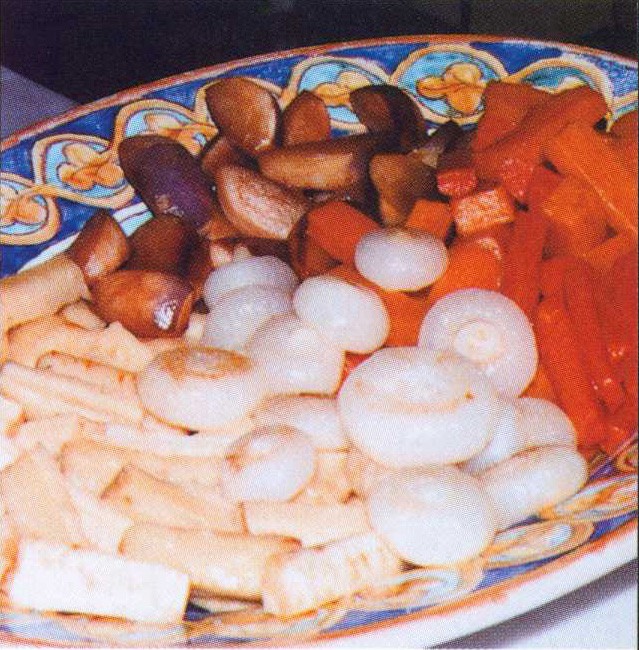 Strain the marinade over a bowl to collect the liquid. Add the carrots and minced garlic, and the onion, garlic, and herbs from the marinade to the skillet. Cook over medium heat, stirring occasionally, until soft, about 10 minutes. Add the dried mushrooms and their liquid. Bring to a boil, then add the marinade wine and the other red wine and port. Return to a boil and skim off all surface scum and fat.
Lower the heat until the liquid stops simmering. Add the rabbit pieces and herb bundle. Return to a simmer, cover, and transfer to the oven.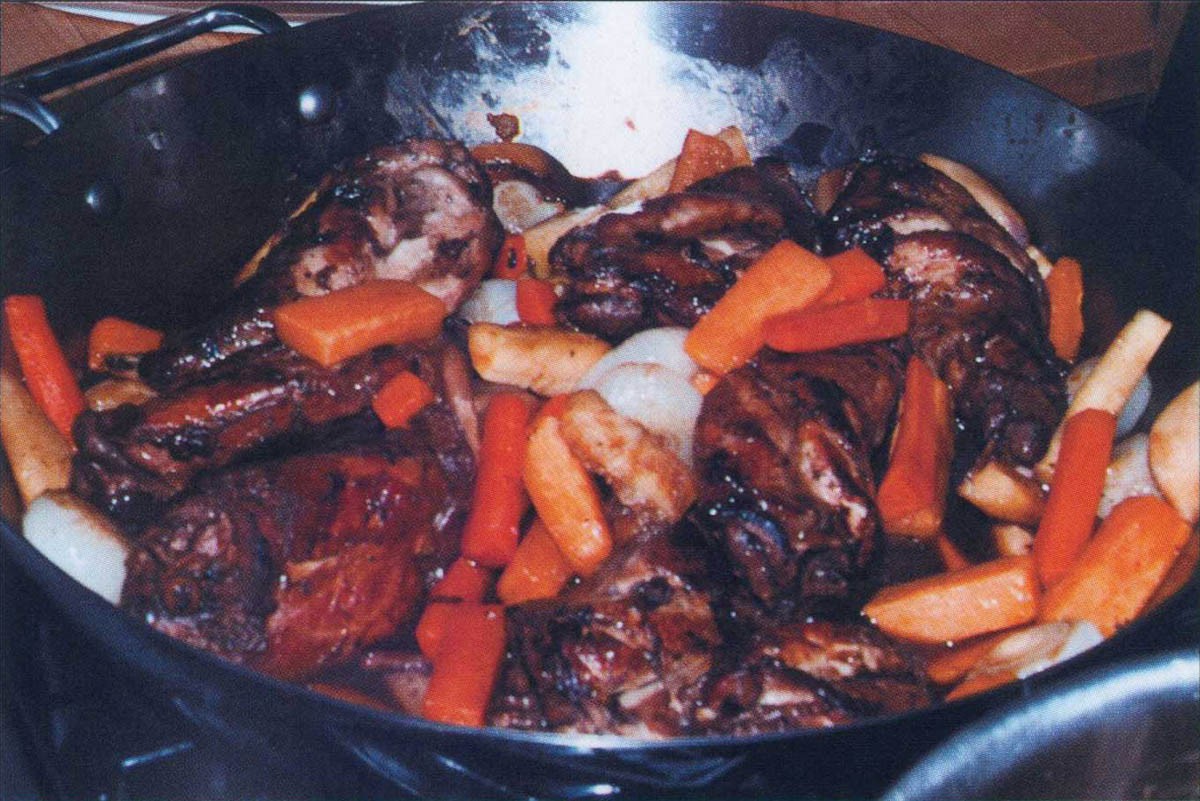 Cook for 15 minutes. Remove the loin (back) pieces, cover again, and continue braising until the legs are cooked, about another 30 minutes.
Remove all the rabbit pieces. Strain the braising liquid and put the braising vegetables through a sieve or food mill; return to the liquid. Boil the sauce over medium heat, skimming again, for 15 minutes. Season with salt and pepper to taste. Add the rabbit to the sauce and gently reheat.
Sauté the fresh mushrooms in the butter in a large skillet over medium-high heat for 1 minute. Season with salt and pepper and continue cooking until some of their juices are extruded but the mushrooms are still firm, 3 to 5 minutes.
Serve the rabbit and its sauce with the mushrooms (and their juices) in the center. Garnish the dish with the chopped parsley and basil. Pass the spoonbread on the side.