While the rice is still warm, sprinkle it with seasoned vinegar, tossing lightly for even distribution. Wet your hands in cold water (some people add a few drops of vinegar to the water) to prevent the rice from sticking to your fingers, then divide the seasoned rice into 25 balls. Dampen a white handkerchief or table napkin and wring it out thoroughly. Place one ball of rice at a time in the center of the cloth and gather up the edges (1). Twist the bag to compress the rice (2). Remove the ball and, with dampened hands, press down slightly to form an oval shape (3, 4). Place on a plate or tray and cover with a damp cloth to prevent the surface from hardening as you prepare the other rice ovals in the same manner.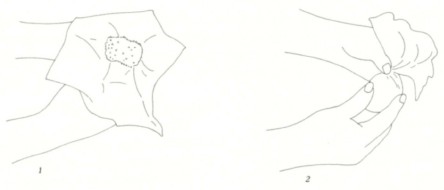 Measure the length of your rice ovals (probably 1½ inches long) and cut enough salmon to cover each (you can always piece together a torn or shredded slice). Spread a very small amount of horseradish on the underside of each slice of salmon and drape it over the rice ovals (5). Provide soy sauce for dipping, if you like.
Note: Nigiri-zushi are really best when prepared just before eating—the reason for some of the splendid performances at restaurant sushi bars. But the version given here can be made an hour or so in advance of your guests' arrival. Loosely cover with a damp cloth and clear wrap and place in a cool but not refrigerated spot.