Within an hour or two of serving time, prepare the rice, then season and shape it as described in the preceding recipe. Cover the ovals loosely with a damp cloth, then enclose in clear wrap. Do not refrigerate.
With the exception of the omelet, prepare your toppings as close to serving time as possible. Slice a small slab of tuna into ¼-inch-thick slices, across the grain (Basic Hold 3). Just before draping over the rice, dab a bit of fiery green horseradish on the underside of each slice.
Fillet of sole or flounder should be cut into paper-thin slices, slightly on the diagonal (sogi-giri cutting). Again dab the underside of each slice with a bit of horseradish before draping over the rice ovals.
Squid or cuttlefish should be cut into rectangles slightly larger than your ovals of rice. I think they look and taste better when "tied" onto the rice with ribbons of black laver. Dry roast a half sheet of laver () and cut it with scissors into ¼-inch-wide strips. Attach as illustrated here. If making the omelet fresh, be sure it has cooled completely before slicing it. Figure on about 5 slices for every 2 inches of thick omelet, each slice to top a single rice oval. Drape the omelet, then secure it with a thin strip of laver in the same manner as the squid or cuttlefish.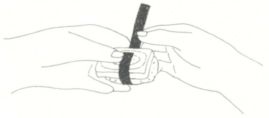 Arrange the bite-size sushi on a large platter or tray and garnish with pink pickled ginger. Though inedible, fresh green leaves or even plastic ones (they look like tufts of grass) can make your platter even more attractive.