Preparing the Pickling Medium
You will need a wide-mouthed glazed ceramic pot or glass jar that has a tight-fitting lid. Plastic or metal containers are unacceptable since unpleasant chemical reactions occur. Wooden bowls should be avoided, since they absorb too much moisture from the pickling paste. Your pickling pot should have at least a 2-quart capacity.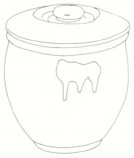 Purchase a package of iri nuka (roasted rice bran) or dry roast plain nuka (rice bran) yourself. Either method should yield 5½–6 cups of dry-roasted rice bran. With your hands, thoroughly mix the rice bran with 1¾–2 cups of cold water to make a thick paste. Check with the clerk when purchasing your rice bran to see if salt has already been added (some brands have salt and other enzymes mixed in). If not, sprinkle 1 tablespoon of salt over your paste and mix again. The salt aids development of a mature pickling paste. Some brands of iri nuka are packaged with a small piece of konbu (dried kelp), while others are not. If it is not in your package, add a 2–3-inch strip of dried kelp to your paste. This helps to maintain the proper balance of moisture and it lends a slightly sweet sea aroma to the finished pickles. Dried hot red peppers (tōgarashi) should also be added to the pickling paste. One or 2 whole peppers should be enough to add the right sharpness of flavor (the tōgarashi also discourages bugs from entering the mixture). In addition, 1–2 cloves of garlic (peeled but not cut) and/or a small knob of fresh ginger (peeled) added to the nuka paste provide a piquancy much favored by the Japanese.
It will take several days before your pickling paste begins to ripen. This process can be assisted by adding already matured nuka paste from a friend's pot. If you have some vegetable scraps (peels from unwaxed cucumbers, carrots, eggplant, wilted cabbage leaves) these can also be put in the basic paste. These scraps should be removed and discarded the following day. A ripe pickling paste has a rather heady aroma and is the consistency of damp sand. If you are unsure as to the ripeness of your paste, try pickling a piece of un waxed cucumber or zucchini for 8 hours. Rinse the sample piece under cold water and pat dry. The vegetable should still be bright green but limp, pleasantly salty, slightly tangy, and crunchy though no longer as crisp as when raw. There should be a mellow, almost earthy aftertaste that lingers for several moments.
If your pickling paste is in constant use, you may wish to replenish it by adding 1–2 cups of dry-roasted rice bran every month or so. Sprinkle the additional rice bran over the existing mixture and combine well with your hands. If the mixture should be very dry, you may need to add a few tablespoons of water, too. The dried red peppers, kelp, garlic and ginger do not need to be changed more than once or twice a year. Should your pickles seem too salty, 2–3 crushed raw eggshells can be tossed into the paste. These will have a mellowing effect and you need not worry about removing them as they will gradually decompose over a period of several months. If your pickling paste becomes too watery, stand a small ceramic or glass cup in the center. The pickling mixture should completely surround the cup without spilling over into it. Excess moisture will drain into the cup, which should be removed in a few days.
If a whitish mold should appear on the surface of your pickling paste there is no cause for alarm. Merely scrape it off with a wooden spoon. This mold is harmless and, if removed promptly, will not alter the flavor or quality of your pickles.
Your pickling medium should be kept at room temperature, tightly covered. It should be aerated at least 3 times a week, by mixing and folding bottom over top. Your bare hand is the best implement, though you can use a wooden spoon. If properly cared for, your pickling paste will last for several years.