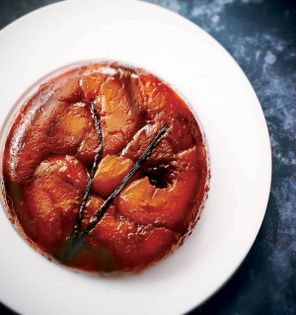 Appears in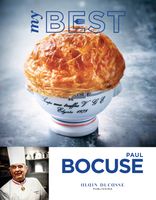 Ingredients
Sweet Shortcrust Pastry
4 ounces (100 g) butter
Table salt
3 ounces (75 g) confectioners' sugar
9 ounces (220 g) flour
Large pinch (2 g) baking powder
1 egg
Method
Make the Sweet Shortcrust Pastry
Melt the butter in a bain-marie*, stirring it with a whisk. Let it cool for a few seconds. Add the salt and mix. Pour in the confectioners' sugar. Mix. Pour in the flour in a steady stream, while continuing to mix. Once the dough begins to form, take out the whisk and continue to mix with a spatula. Work in the baking powder.

Break the egg into a ramekin, beat it with a fork, then pour it on to the dough. Mix it until it forms a ball. Flatten it slightly, put it on a plate, and leave it to rest in the refrigerator for 1 hour.
Preparing the Caramel
Heat the sugar over high heat in a saucepan. When the sugar has turned a good golden color and is beginning to foam, mix it with a wooden spoon. Add the butter. Mix until the butter is melted.

Pour the caramel into a 8-inch (20-cm) metal baking dish. Split the vanilla pod in two without separating the two halves. Put it into the pan, right in the middle, to form a "V".
Make the Tart
Preheat the oven to 325°F (160°C). Peel and core the apples. Cut them in half vertically. Arrange the apples, standing them upright in the pan. Fill in the center, and fill up any gaps.

Place the pan in the bottom of the oven and cook for 1 hour. Check that the apples are cooked. Allow to rest for 10 minutes, then leave in the refrigerator for 1 hour.

Preheat the oven to 400°F (200°C). Place the dough on greaseproof paper, and flour it lightly. Roll it out into a circle about 8-inch (3-mm) thick. Lay the lid of the dish upside down on the pastry, and cut the pastry out to the same interior dimensions as the lid. Cut away the excess.

Prick the surface of the dough all over, using a fork. Trim the greaseproof paper to within ½ inch (12 mm) of the edge of the dough. Slide the dough onto a baking tray, with the help of the paper.
Put it in the oven and bake for 10 minutes. Lay the cooked pastry on a cooling rack. Allow it to cool and harden.

A few minutes before serving, gently warm a serving plate. Place the pastry disk over the apples.
Unstick the apples by holding the pastry with one hand and turning the pan. Turn it out: Lay the plate upside down over the pan, invert, and lift the pan away. The tart is ready to be devoured!