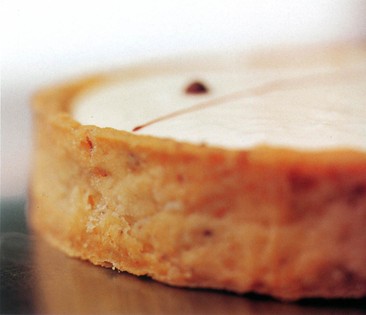 Appears in
Ingredients
4 ounces white chocolate, finely chopped
1¼ cups heavy cream
1 tablespoon seedless raspberry preserves
6 fully baked tart shells, made with Hazelnut Tart Dough
1 ounce bittersweet chocolate, melted, for design
Method
Place the white chocolate in a medium bowl.
Pour 1 cup of the cream into a small saucepan and bring to a boil over medium heat. Pour the hot cream all at once over the white chocolate. Let sit for 1 minute, then whisk until smooth. Strain into a bowl, cover with plastic wrap, and puncture several holes in it with the tip of a paring knife. Refrigerate for at least 4 hours, or overnight.
Divide the raspberry preserves among the tart shells, spreading a thin layer over the bottom of each one.
Combine the chilled white chocolate cream and the remaining ¼ cup cream in the bowl of a stand mixer or a mixing bowl. Using the whisk attachment or a hand-held mixer, beat at medium speed until soft peaks form. Spoon the white chocolate cream into the tart shells. Gently shake the tarts to level the tops.
Fill a small paper pastry bag with the melted bittersweet chocolate. Stripe and dot the top of each tart, and serve.