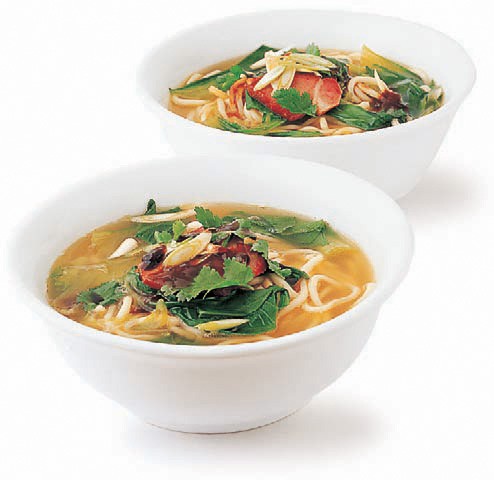 Appears in

Ingredients
200 g (7 oz) dried egg noodles
1.5 litres (6 cups) chicken stock
8 thin slices ginger
4 spring onions (scallions), thinly sliced
200 g (7 oz) bok choy (pak choy), chopped
soy sauce, to serve
hoisin sauce, to serve
150 g (5½ oz) Chinese barbecued pork, thinly sliced
coriander (cilantro) leaves, to garnish
Method
Cook the egg noodles in boiling water for 4 minutes, or until tender. Drain well.
Put the stock in a saucepan with the ginger and spring onions. Bring to the boil, then add the bok choy and cook for 2 minutes.
Divide the noodles among four large bowls, pour in the stock and then top with a drizzle of soy sauce and hoisin and a few slices of pork. Garnish with the coriander.