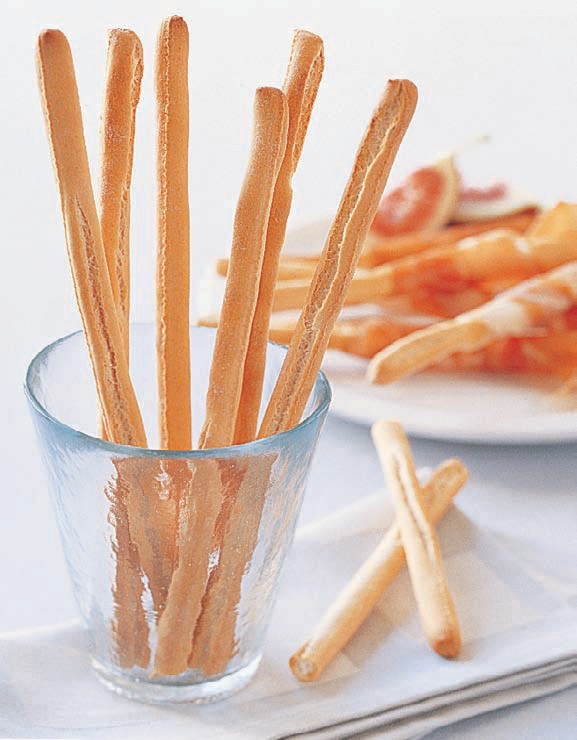 Appears in

Ingredients
1 teaspoon dried yeast
pinch of caster (superfine) sugar
1 tablespoon extra virgin olive oil
250 g (9 oz/2 cups) white strong flour
60 g (2¼ oz/⅔ cup) grated parmesan cheese
Method
Sprinkle the yeast and sugar over 170 ml (5½ fl oz/¾ cup) warm water in a small bowl. Stir to dissolve the sugar, then leave in a draught-free place for 10 minutes, or until the yeast is foamy. Stir in the olive oil.
Put the flour in a large bowl, add the parmesan and 1 teaspoon salt and stir to combine well. Pour in the yeast mixture and stir until a dough forms. Turn the dough out onto a lightly floured work surface and knead for 5 minutes, or until the dough is smooth and elastic.
Place the dough in a lightly oiled bowl, turning the dough to coat in the oil. Cover with plastic wrap or a damp tea towel and leave in a draught-free place for 1 hour, or until the dough has doubled in size.
Preheat the oven to 200°C (400°F/Gas 6). Lightly grease two baking trays. Knock back the dough by punching it gently, then turn out onto a floured work surface and cut in half. Roll out one piece of dough to form a rectangle measuring 20 × 16 cm (8 × 6¼ inches), then cut into sixteen 1 cm (½ inch) wide strips. Using your hands, roll each strip to form a 22–24 cm (8½–9½ inch) long stick, then place on one of the baking trays. Repeat for the second piece of dough.
Bake for 17–20 minutes, until golden and crisp, swapping the trays halfway through to ensure even cooking. Transfer to a wire rack to cool.