Appears in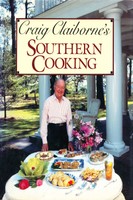 Ingredients
2 to 4 avocados (about 1 pound total weight)
Juice of 1 lemon
3½ cups Chicken Stock
1 tablespoon butter
½ cup finely sliced onion
1 tablespoon flour
2 cups sour cream
1 cup peeled, seeded, chopped tomatoes
Salt to taste, if desired
Freshly ground pepper to taste
Tabasco sauce
Method
Peel and cut the avocados in half and remove the pits. Cut the flesh into cubes and put them in the container of a food processor. Add the lemon juice and ½ cup stock. Process until fine in texture; pour mixture into a saucepan.
Melt the butter in another saucepan and add the onion. Cook until wilted and sprinkle with flour. Stir to coat the pieces and add the remaining 3 cups stock, stirring rapidly with a wire whisk. When blended and smooth, remove from the heat.
Add the sauce to the avocado mixture. Add the sour cream, tomatoes, salt, and pepper. Add Tabasco sauce to taste. Serve hot or chilled.