Appears in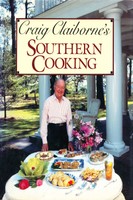 Ingredients
6 rectangular portions of boneless shad fillets with skin left on (about 2¼ pounds total weight)
Salt to taste, if desired
Freshly ground pepper to taste
¼ cup dry white wine
2 tablespoons olive oil
2 tablespoons plus ¼ cup finely chopped fresh chervil (or use a blend of parsley and tarragon)
2 pairs of shad roe (about ¾ pound total weight)
6 tablespoons unsalted butter
½ cup finely chopped onion
1 cup finely diced whole wheat bread
2 hard-cooked eggs put through a sieve (about ½ cup)
6 thin, seedless lemon slices with rind
Method
Preheat the oven to 475 degrees. Cut out 6 rectangles of parchment or aluminum foil measuring 12 × 16 inches.
Arrange the shad fillets, skin side down, on a baking dish in which the portions will fit snugly in one layer. Sprinkle with salt and pepper.
Blend the wine, oil, and 2 tablespoons chervil. Sprinkle this over the fish.
Pull off and discard the connecting membranes of the roe. Cut the roe crosswise into ½-inch-thick slices.
Heat the butter in a small skillet and add the onion. Cook, stirring, until wilted. Add the pieces of roe and cook, stirring briefly, just until the roe starts to lose its raw look and is partly cooked.
Put the bread in a mixing bowl and add the ¼ cup chopped chervil. Add the roe mixture and the sieved eggs. Blend well. Divide the mixture into 6 equal portions.
Lay out the 6 rectangles of parchment paper or foil and place 1 piece of fillet, skin side down, on each piece of paper. Spoon equal portions of the marinade over each. Open up the flaps (from which the bones were removed) and stuff each opening with equal portions of the roe mixture. Pack it loosely. Top each serving with a lemon slice. Fold the paper neatly and compactly, envelope fashion. Arrange each filled paper envelope, sealed side down, on a baking sheet.
Place in the oven and bake 13 minutes. Remove the fish from the envelopes and serve.