Appears in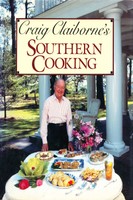 Ingredients
8 small trout (about 5 ounces each), or 4 large trout (8 to 10 ounces each)
2 tablespoons butter
2 tablespoons finely chopped shallots
Salt to taste, if desired
Freshly ground pepper to taste
1 cup dry white wine
1 cup white seedless grapes
1 cup heavy cream
Method
Preheat the oven to 400 degrees.
Select a baking dish large enough to hold the trout in one layer. Rub the bottom with butter and sprinkle the shallots over it. Sprinkle with salt and pepper to taste.
Arrange the trout neatly in the baking dish. Pour the wine over the trout. Sprinkle the grapes over all. Place in the oven and bake small trout about 10 minutes, large trout about 16 minutes.
Remove the trout from the oven. Scrape and peel the skin from both sides of each trout, leaving the heads and tails intact. Arrange the trout in one layer in a serving dish and cover closely with wax paper.
Pour and scrape the cooking liquid and grapes into a shallow casserole. Bring to the boil and cook over moderately high heat until the sauce is quite syrupy and almost reduced. Add the cream and bring to the boil. Cook until the sauce is reduced by half. Pour the sauce over the trout and serve.