Appears in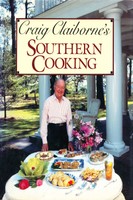 Ingredients
2 chickens (2½ to 3 pounds each), cut into serving pieces
Salt to taste, if desired
Freshly ground pepper to taste
4 tablespoons butter
½ cup finely chopped onion
½ cup finely chopped celery
1 bay leaf
½ teaspoon dried thyme, or 2 sprigs fresh
¼ teaspoon grated nutmeg
2 whole cloves
1 bottle (3 cups) dry red wine
½ cup heavy cream
½ cup chopped pecans
Method
Sprinkle the chicken pieces with salt and pepper to taste.
Heat the butter in a heavy skillet and brown the chicken pieces all over. Scatter the onion, celery, bay leaf, and thyme around the chicken. Sprinkle with nutmeg. Add the cloves, wine, and salt and pepper to taste.
Cover and simmer 30 minutes, or until the chicken is tender.
Remove the chicken pieces and keep warm. Skim off the fat from the surface of the sauce. Reduce the sauce to about 2 cups. Add the cream. Return the chicken pieces to the skillet and bring the sauce to the boil. Add the pecans and serve hot.