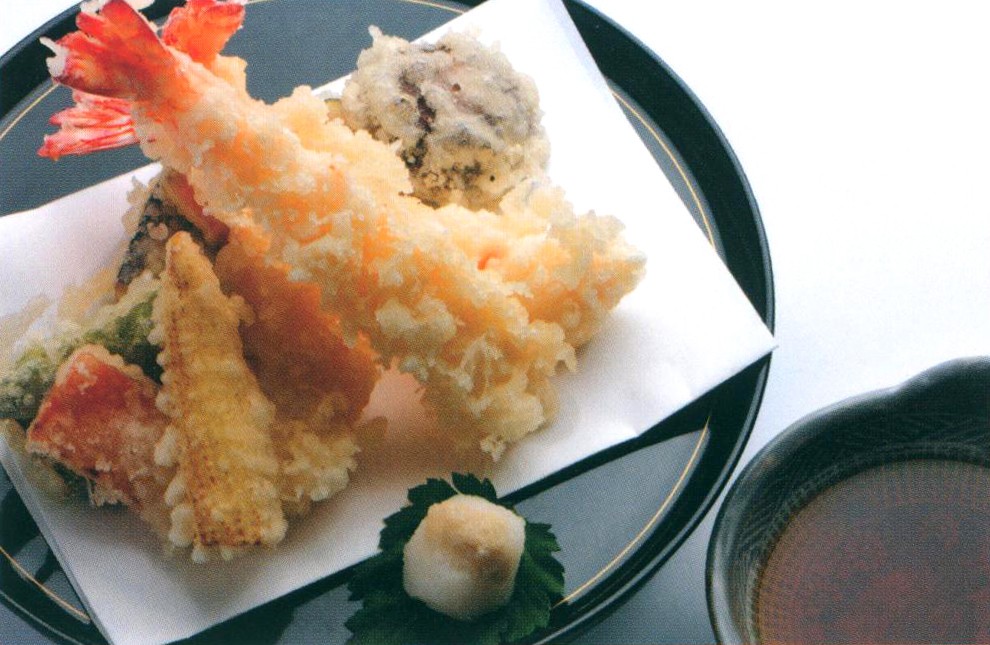 Ingredients
For the tempura dipping sauce

200 ml dashi
2 tbsp & 2 tsp soy sauce
2 tbsp & 2 tsp mirin
12 prawns
8 small green peppers
4 shiitake mushrooms
4 baby corn
⅓ carrot
2 asparagus
½ aubergine
1 small egg yolk
400 g plain flour, for tempura batter
Grated daikon radish, and ginger, as needed
Cooking oil, for deep frying
Method
Place the ingredients for the tentsuyu (dipping sauce) in a pan and heat. Once boiled, remove from the heat.
Peel and devein the prawns, leaving their tails on, then make a few small cuts to their under side.
Remove the stem of the peppers and make a few holes using a bamboo skewer. Cut the carrot into 2 mm thick 3 cm x 4 cm strips. Cut the baby corn, asparagus and aubergine into bite-size pieces. Remove the stalks from the mushrooms. Cut crosses into the tops of the mushrooms and the skin of the aubergine.
Mix the egg yolk with 400 ml of cold water, then add the flour' and fold using a cutting motion. Heat the oil to 170°C in a pan.
Put the prawns and vegetables in some flour, dip into (4) then fry until crisp. Arrange on a plate with the grated daikon, ginger and a dish of the tentsuyu from (1).