Appears in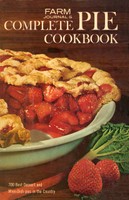 Ingredients
3 egg whites (room temperature)
¼ tsp. cream of tartar
¼ tsp. salt
½ tsp. vanilla
¾ c. sugar
Method
Combine egg whites, cream of tartar, salt and vanilla in large mixer bowl. Beat until very soft peaks form when beater is lifted slowly. Beat in sugar, 2 tblsp. at a time, beating after each addition. Continue beating until stiff peaks form. The meringue should be glossy and moist.
Line baking sheets with heavy brown paper. Drop spoonfuls of meringue on paper to make 8 mounds of even size, 3" apart. With back of spoon hollow out each mound to make tart shell.
Bake in very slow oven (275°F.) 1 hour. Turn off oven heat and let shells remain in oven, with door closed, until cold.
At serving time, fill with ice cream and top with berries, cut-up fruit or butterscotch, chocolate or other sauce. Or fill with berries or fresh fruit and top with whipped cream.
To store Meringue Tart Shells for a few days, loosely wrap them, when cool, in waxed paper. Keep in a cool, dry place, such as a cupboard. Do not put in airtight containers or meringues will soften.