Appears in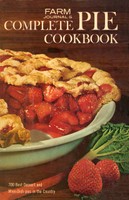 Ingredients
2¼ c. sifted flour
1 tsp. salt
1 tblsp. sugar
¾ c. vegetable shortening
1 egg yolk
1 tblsp. lemon juice
¼ c. milk
Method
Sift flour with salt and sugar. Cut in shortening until mixture resembles coarse cornmeal.
Beat egg yolk and lemon juice. Blend in milk. Add to dry ingredients, tossing with fork into a soft dough.
Divide dough in half. Form each into ball. Flatten each on lightly floured surface. Roll to about ⅛" thickness. Use half for bottom crust. Cut second half into 18 strips with sharp knife or pastry wheel. Interlace 14 strips, pressing ends against moistened rim and folding lower crust up over them. Moisten rim again and circle it with remaining 4 strips. Press down firmly.