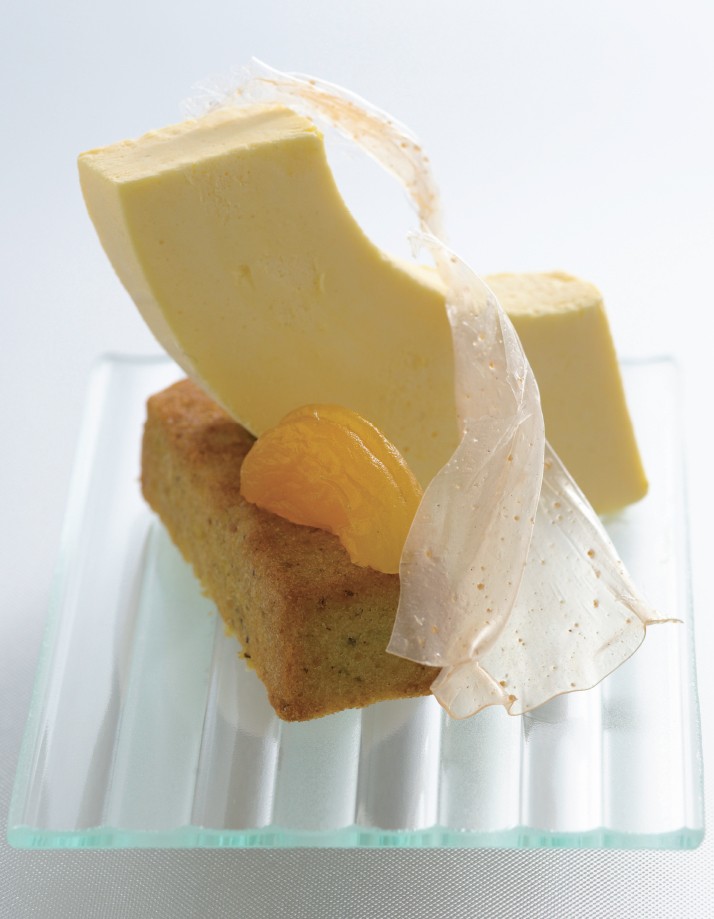 Method
Assembly
Place three 15-cm / 6-in cake rings on a sheet pan lined with a nonstick rubber mat. Line the inside of the ring with acetate. Line the outside of a 7.5-cm / 3-in ring with acetate and place it inside the larger ring. Make sure that it is centered. Secure the middle ring by taping it to the larger ring on top once it is centered. Freeze.
Pour the apricot mousse base into a piping bag. Pipe it between the larger ring and the smaller ring so that it is 1 cm / .4 in thick. Tap the sheet pan down so that the mousse settles into an even layer. Place the mousse in the freezer to harden.
Once the mousse has frozen, take the rings and the acetate off. Cut the mousse in quarters using a knife that has been dipped in hot water and dried. Transfer to an airtight container and freeze until needed.
Place a pistachio financier on the plate.
Place 1 apricot mousse quarter inside the groove on the financier, so it sits firmly on the plate and leans on the financier in an upright position.
Place a poached apricot half to the left side of the financier.
Lean a piece of praline croquant on the mousse.
Let the mousse temper for 3 to 4 minutes and serve.