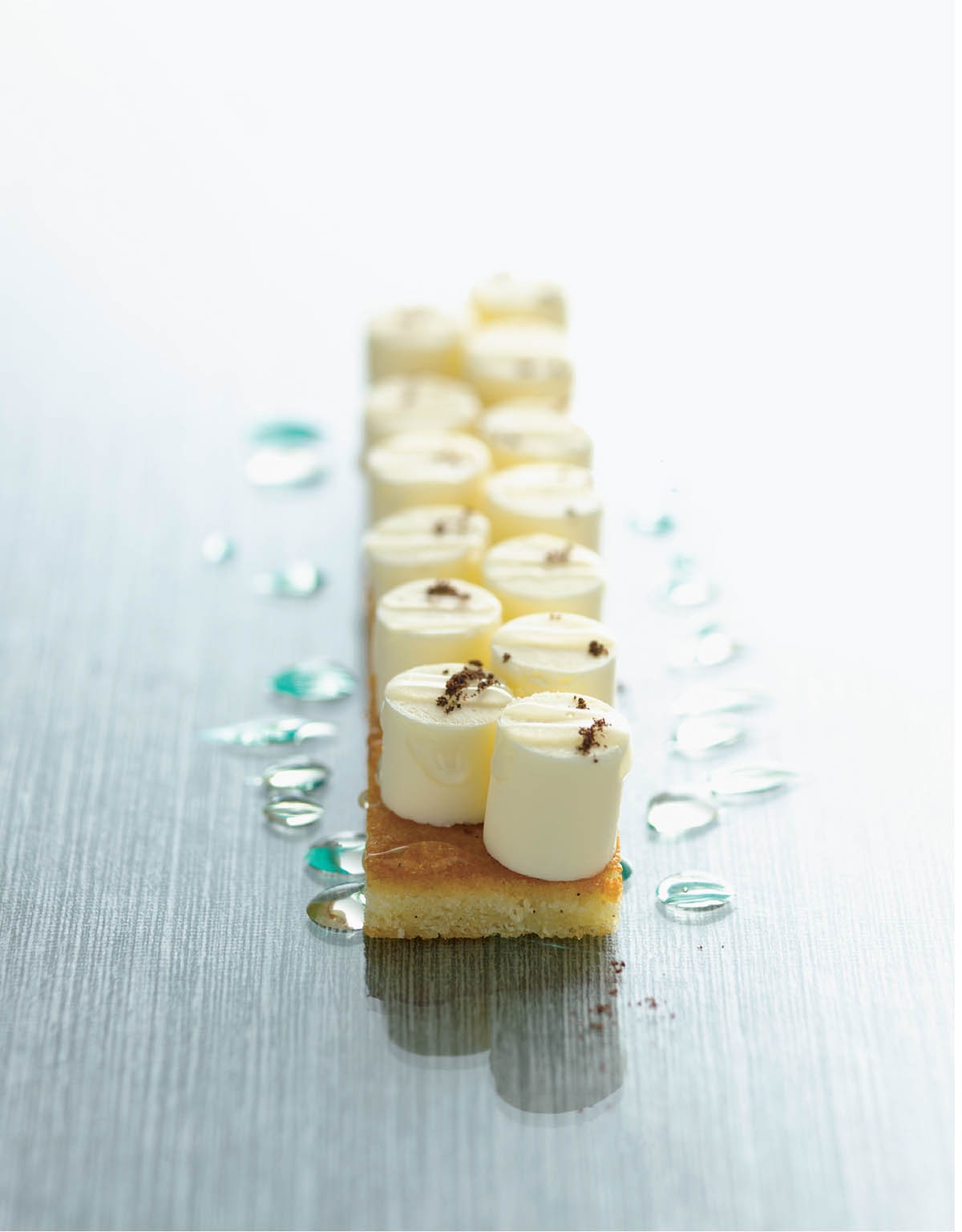 Ingredients
Components
1 kg / 2 lb 3.27 oz Lemon Verbena Mousse Base
10 Crème Fraîche Cake Rectangles
50 g / 1.76 oz orange blossom honey
5 g / .18 oz Madagascar vanilla powder
Method
Assembly
Line 10 PVC tubes 18 cm / 7 in by 1.25 cm / .5 in diameter with acetate. Place the tubes on a sheet pan in a standing position and freeze.
Transfer the mousse base to a piping bag and fill the PVC tubes. Freeze.
Once frozen, remove the mousse from the tubes. Using a sharp knife, trim the odd ends off, then cut the frozen mousse (with the acetate still on) into 1.25-cm / .5-in pieces. There should be 13 pieces per tube. Reserve frozen in an airtight container.
Place the cake on the plate.
Remove the acetate from the mousse cylinders. Place 13 mousse cylinders on the cake in a standing position. Offset them so that they are at the far ends of the cake, to the left of center with one piece and then to the right with the next piece, and so on, until all the pieces of mousse are on the cake.
Torch the mousse for 2 to 3 seconds in order to evaporate any frozen condensation.
Drizzle 5 g / .18 oz of the honey on top of the mousse in thin strands.
Sprinkle .5 g / .02 oz of the vanilla powder evenly on the top of the mousse.
Temper for 2 to 3 minutes and serve.