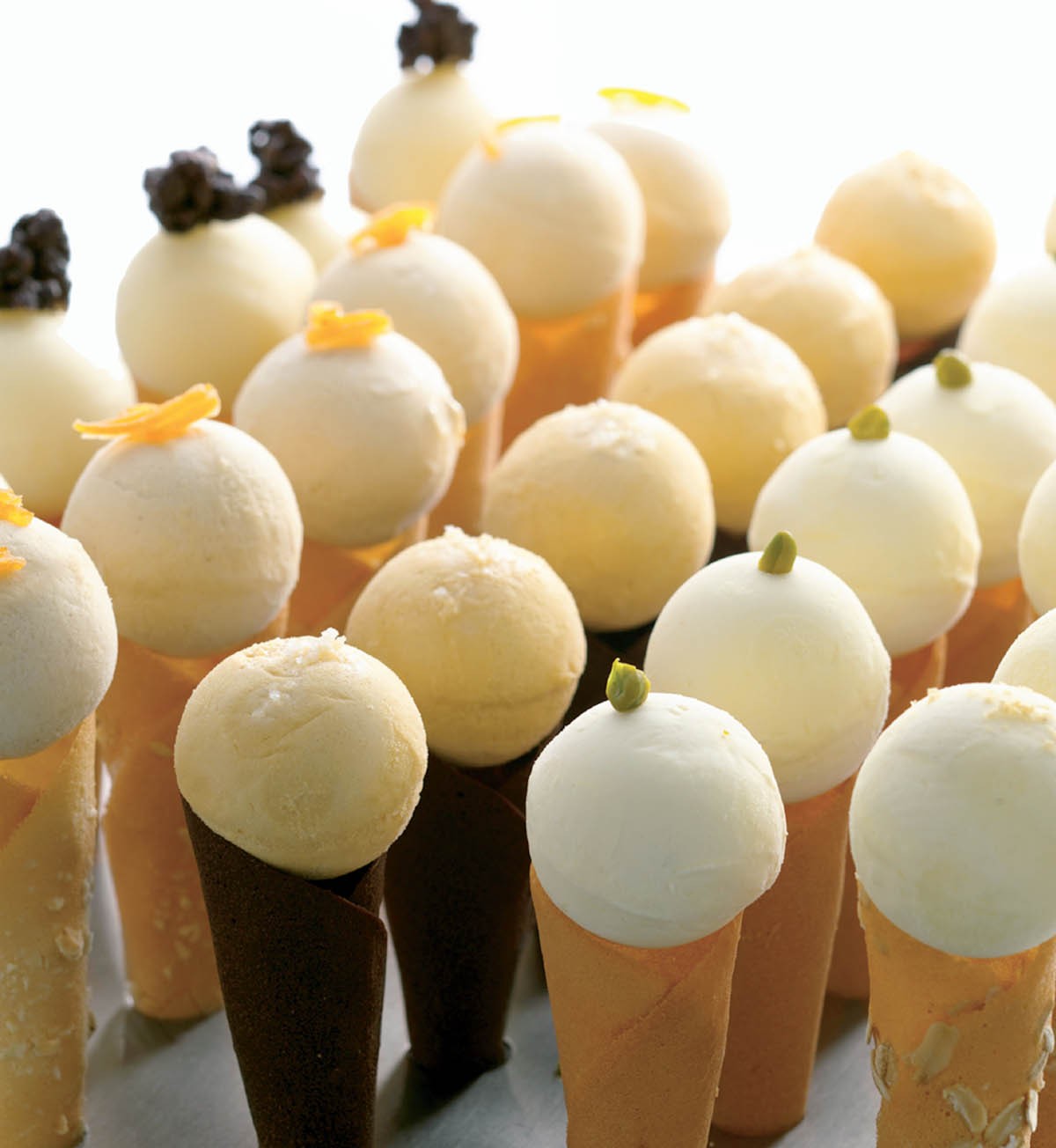 Ingredients
Praline Paste
500 g / 1 lb 1.64 oz sugar
125 g / 4.41 oz water
20 g / .71 oz lemon juice
250 g / 8.82 oz Marcona almonds
250 g / 8.82 oz Piedmontese hazelnuts
100 g / 3.53 oz canola oil, or as needed
Ice Cream Base
2.97 kg / 6 lb 8.76 oz / 59.41% milk
538 g / 1 lb 2.99 oz / 10.76% heavy cream
738 g / 1 lb 10.05 oz / 14.76% sugar
353 g / 12.46 oz / 7.06% egg yolks
400 g / 14.11 oz / 8% Praline Paste
Method
For the Praline Paste: Place the sugar in a saucepan and add the water and lemon juice to prevent crystallization. Bring the mixture to a boil over high heat.
Meanwhile, toast the nuts separately in a 200°C / 392°F oven.
Lightly grease a marble slab with canola oil.
Stir the nuts into the sugar when it reaches 180°C / 356°F. Make sure the nuts are hot; otherwise the sugar will seize and crystallize, because room-temperature nuts will quickly cool down the sugar, forcing crystallization.
Turn the heat down to medium and continue to stir until the nuts begin to make a popping sound, about 1 minute; immediately pour onto the oiled marble and let cool to room temperature.
Break the praline apart into pieces that will fit in a robotcoupe; process until a smooth paste is obtained, 5 to 7 minutes. Grind only half of the praline at a time.
For the Ice Cream Base: Make the ice cream base according to the Classic Ice Cream Method.
Add the praline once the custard is made and it is still hot. Whisk thoroughly to completely dissolve the praline paste and incorporate all of the soluble components (fats and sugar).
Strain the base through a fine-mesh strainer and cool over an ice bath. Age the base under refrigeration overnight.
Once the base has aged, churn to the desired consistency.
Harden for at least 2 hours and up to 4 hours. Reserve until needed.