Appears in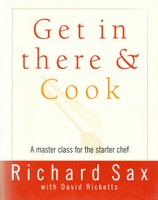 Ingredients
3 tablespoons olive oil
1 red onion, coarsely chopped
1 yellow or red bell pepper, cored, seeded (Bell Pepper Basics), and cut lengthwise into strips
1 carrot, trimmed, peeled, and sliced on a diagonal ¼ inch thick
4 garlic cloves, minced
1 teaspoon salt
1 cup long-grain white rice or medium-grain Arborio rice
¼ cup dry white wine
Pinch each of saffron threads, dried red pepper flakes, and dried thyme
3 canned whole tomatoes, drained and chopped, or 4 oil-packed sun-dried tomatoes, chopped
3 tablespoons chopped fresh parsley
1 can (about 14 ounces) chicken broth or 1 bottle (8 ounces) clam juice
½ pound large or medium shrimp (Shrimp Basics), in the shell
½ pound sea or bay scallops, halved crosswise if large
1 cup frozen peas (right from the freezer)
4 to 6 pimiento-stuffed olives, sliced (optional)
freshly ground black pepper, to taste
Method
Heat 2 tablespoons of the olive oil in a nonreactive shallow casserole, deep sauté pan, or paella pan over medium-high heat. Add the onion, bell pepper, carrot, garlic, and salt; sauté, stirring occasionally, just until the vegetables begin to soften, about 5 minutes. Add the remaining 1 tablespoon oil and the rice and stir until the rice is coated with the oil and begins to turn slightly translucent, about 3 minutes. Add the wine, saffron, pepper flakes, and thyme; boil until dry, but don't let the rice brown. (The recipe can be prepared in advance to this point. Cover and let stand at room temperature, then reheat, adding a tablespoon or two of water.)
Add the tomatoes and 1 tablespoon of the parsley. Pour the chicken broth or clam juice into a 2-cup liquid measuring cup; add enough water to come to 2 cups and add to the pan. Bring to a boil. Stir, lower the heat to a simmer, and cover the pan. Simmer for 15 minutes without stirring. Check every now and then to be sure the mixture isn't boiling.
Add the shrimp, scallops, peas (breaking them up), and olives; gently stir everything into the rice with a wooden spoon. Add ¼ cup water (this dish should be quite moist) and a few grinds of pepper; cover and simmer until the rice is tender and the seafood is just opaque, 5 or 6 minutes longer. (If you are using Arborio rice, you may need to moisten it with ½ cup water, rather than the ¼ cup. In any case, the rice should be moist but not too soupy.) Be careful not to overcook. To be sure, cut into the center of a scallop and a shrimp. Taste and correct all seasonings, adding salt, pepper, and herbs as needed. Sprinkle with the remaining 2 tablespoons parsley and serve immediately.