Appears in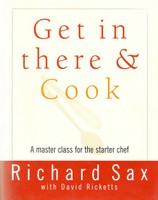 Ingredients
1¼ to 1½ pounds red-skinned new potatoes, scrubbed and quartered lengthwise (if larger, cut in 6 wedges)
1½ tablespoons olive oil
Salt, to taste
2 garlic cloves, smashed and peeled
freshly ground black pepper, to taste
Chopped fresh parsley or rosemary (optional)
Method
Place the potatoes in a wide, heavy nonstick skillet. Add enough cold water to come about two-thirds of the way up the potatoes. Add the olive oil, a sprinkling of salt, and the garlic. Bring the water to a boil.
Adjust the heat to maintain a steady but not violent boil. Cook, uncovered, until the water evaporates, 15 to 18 minutes; turn the potatoes over with a slotted spoon or tongs 2 or 3 times as they cook.
When the liquid has evaporated, raise the heat slightly to medium-high. Sauté the potatoes, tossing frequently or turning with tongs, until golden and crusty, 7 to 10 minutes longer. Remove the garlic. Season with pepper, the herb, plus more salt, if needed.