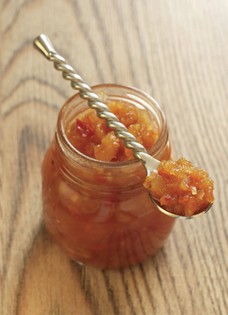 Appears in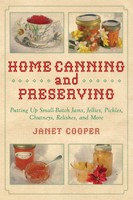 Ingredients
½ cup crushed pineapple, drained
1 lime
2 tart apples
1 firm but ripe pear
1 navel orange
2 cups fresh cranberries
1½ cups water, pineapple juice, cider, or orange juice
½ cup vinegar
½ teaspoon curry powder (commercial)
½ teaspoon ginger
½ teaspoon cloves
¼ teaspoon cayenne pepper
1 to 2 cups sugar
½ cup currants or raisins
¼ cup walnuts, chopped
Method
Cut the lime in quarters lengthwise, remove seeds, and slice thinly crosswise, discarding the ends without fruit. Peel, core, and dice the apple and pear. Grate the orange rind; remove all pith and outer membrane. Cut the fruit from between the membranes. Squeeze the juice from the membrane before discarding it. Chop the fruit, keeping any juice. Wash and chop the cranberries either by hand or in a blender or food processor.
Combine the fruits along with the water or juice, vinegar, curry powder, ginger, cloves, and cayenne pepper. Simmer 30 minutes to 1 hour, uncovered, until line rind is somewhat transparent and softened. Add additional liquid, a little at a time, if the mixture becomes too dry.
Add the sugar and currants or raisins, which have been washed and squeezed dry. Continue cooking to desired thickness and add the walnuts. Seal in sterile jars.