Appears in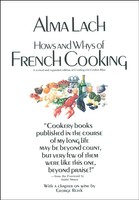 Ingredients
4 carrots
2 onions
2 leeks
¼ pound butter
2 potatoes, sliced
6 cups water
2 teaspoons salt
⅛ teaspoon pepper
2 carrots
Chunk of butter
2 egg yolks
½ cup crème fraîche
Method
Dice 4 carrots, the onions, and washed leeks. Place in saucepan with the butter. Cover and simmer ½ hour. Add potatoes, water, salt, and pepper. Cover and simmer another hour.
Peel 2 carrots and cut into lengthwise slices 1/16 inch thick. Cut these into 1/16-inch strips and then cut into 1/16-inch cubes, thus cutting them à la brunoise. Melt chunk of butter in small skillet. Add brunoise-cut carrots. Place a piece of buttered foil on top of the carrots and then cover pan with a lid. Let simmer over very low heat for about 20 minutes.
When potage is done, press through food mill. Then pour back into saucepan. Heat. Mix yolks and crème. Add about 1 cup hot potage to this liaison, and then pour into potage. Heat but do not boil. Fill soup tureen with potage and garnish with cooked carrot cubes.
,