Appears in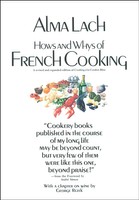 Ingredients
3 carrots
2 turnips
½ pound green beans
1 leek
¼ pound butter
6 cups boiling water
2 teaspoons each salt and sugar
Dash of white pepper
1 tomato
3 medium-sized red potatoes
Chunk of butter
Parsley
Method
Select long thin carrots. Peel and trim off the fat top part, making the whole carrot nearly the same in diameter from top to bottom. Once carrots are shaped, cut into paper-thin crosswise slices.
Peel turnips, then, with an apple corer or a knife, cut as many cylinders as you can from each turnip. Slice them into thin discs like the carrots.
Stem the beans and cut into ⅛-inch slices. Select leek about the same diameter as the carrots. Clean and slice it into discs.
Melt the butter in a large saucepan. Add the prepared vegetables. Cover and simmer 15 minutes. Add the boiling water, salt, sugar, and pepper.
Peel the tomato, cut in half, remove seeds, and squeeze out liquid. Dice onto a plate ready to use.
Peel potatoes. With apple, corer push out cylinders of potatoes. Then slice them paper thin like the other vegetables. Add to soup and cook 15 minutes.
When vegetables are done, carefully whisk in the butter, followed by the diced tomatoes. Pour into soup tureen. Float whole parsley leaves (no stems) over the top. Carefully ladle into soup plates, being careful not to mash the vegetables.
,